Feels Like Day to Stay in (Online School)
This school year has been hard for students of all academic stand points. Covid has changed everyday activities, and with only one-third of the student body able to come to school at Holy Cross each day, online classes are the way many students have to learn.
Although hybrid is now an option at Holy Cross, many students don't want to risk the chance of getting Covid for an optional choice of in school learning. Additionally, students who are playing travel sports, or traveling out of state, are asked to stay home to not put other students at risk.
I myself am traveling out of state pursuing a scholarship to play softball at the next level. With the result that I have stayed home participating in school virtually for the six-and-a-half-hour school days.
Knowing that I am keeping my fellow LOTAs safe is important, but online has been a struggle. With distractions all around it is harder to focus for seventy-five minute class periods, and having to listening to teachers talk for the majority of the class makes it is harder to stay engaged to the lessons.
Teachers do work hard to make sure the online students are learning the material just as well as those in school. They ask girls during the classes if they understand the concepts, and give us many resources on our portal we can use to further are understandings.
Classes are also recorded for those who missed class or if students want to go back to hear the lesson again. Teachers have their schedules up of when they can meet with students for as long as they need to.
The most challenging part of virtual school is the separation between feeling like you are actually at school when you are at home. Wearing the school uniform, driving to school, and being on campus was a part of my daily schedule when there were no Covid restrictions.
Now as a virtual learner I don't have to wear a school uniform, drive to school, and can learn from almost anywhere. Although this sounds nice, it's better for me when I can have hands-on learning and really interact with my teachers and fellow LOTAs.
At times being online makes me feel disconnected from the rest of the class and the teachers. You sometimes are sitting at home hearing the faint sound of a student asking a question, but only hear the teacher's answer clearly. Sometime virtual students find themselves sitting at home before class, watching the teacher talk with the students in school and feeling that disconnection between the hybrid and online students.
The difference in hybrid learning is different for both groups of students. Online student's school may be more challenging in learning, but the hybrid students have the challenges of having to learn near but apart from their friends, while following strict rules and signs around the school.
Holy Cross is handling the situation maturely and smart, by putting signs around the school for telling with way you can walk, bathroom monitors limiting how many students can go in, making sure the doors and windows are open for ventilation, and most importantly making sure people are wearing their masks. They make sure students keep their distance from each other to create a safe learning environment while still allowing them to have fun and interact with each other.
Although it is not like a normal school year, I will take it over not being able to have school at all.
About the Writer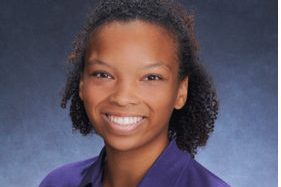 Cheyenne DeGross, Editor
Cheyenne DeGross is starting her second year for the Tartan Times as its first Editor. She is a member of the class of 2022, as well as Co-president of...