Omicron is Here: January's New Policies
Tartan students came back to school to new policies after the latest Omicron variant emerged over winter break. The community faced advanced mask mandates, seating at lunch being designated, weekly testing, and class time being extended with Tartan Time being halved. Omicron's infection rate led the government and the administration to have tougher policies and contact tracing, which was met with various degrees of acceptance.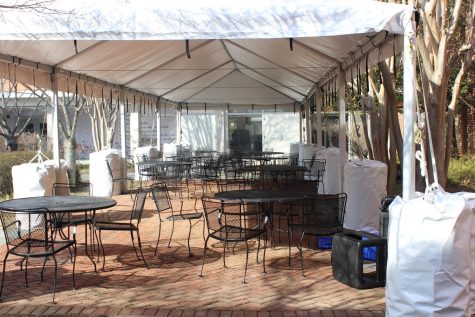 Administration members that led the response has stated that the task force's decisions have been demanded of them from the local, state, and federal government, and that the shift is part of the response to the alarming rates in the nation and locally.
"When it comes to CDC guidelines, they also give us very specific guidelines for schools," Assistant Principal Lindsey Tonks explained further. "The CDC comes out with guidelines, then the Maryland Department of Health will issue guidelines to schools to help guide us in the directions of our policies."
School nurse Kathleen Clark, who has experienced public health crises before with the H1N1 swine flu in 2009, also explained that school nurses were meeting together to help combat the spread of Omicron with PIPSN (Private Independent and Parochial School Nurses) and weekly zoom calls, but admitted that the hardest part of this pandemic is the paperwork and reports behind the scenes.
One of the main issues is that the results come very slow compared to semester one, with some students getting positive tests in the afternoon of the next day, which Clark acknowledged.
"Capitol diagnostics has a portal that I have access to for our school. So I log into that portal and run reports all day too," Clark explained. "Because they send the results, and they are reported in real time, so they don't hold the results and batch release them."
Covid results have been noted as slow, but students did recognize that the school was testing the entire school and not just a few students. However it was unsettling to some LOTAs who found out that they were close contacts hours after the school day started the next day, after they just talked to each other. This made some Tartans nervous.
"I've been annoyed because you get the results like Wednesday during the school day," senior student Mariana Buziak shared.
Additionally, students have expressed frustration at the new policies, especially new changes to the schedule that came rapidly without much warning. The lost of Tartan Time was very upsetting to both staff and scholars as they could no longer meet with teachers or counselors for help, participate in clubs and activities, or meet up with friends.
"It made me very anxious, nervous, and angry because I was used to some level of stability," Buziak stated. "Having all these changes was really stressful to me."
The feeling of hope still persisted as policies began to reverse with decreasing positive test results. AHC quickly planned for clubs and Tartan Time to return.
"[It] takes the community as a whole," Tonks pointed out. "Our success as a school depends on everyone together."
As Omicron's effects on the school wane, both students and staff are looking forward to being more closely together as a community.
"I know despite all of this, I love my job. I love Holy Cross. I love the girls," Clark expressed happily. "And I'm glad if I had to be anywhere during the pandemic that I was here within this supportive, wonderful community."
About the Contributor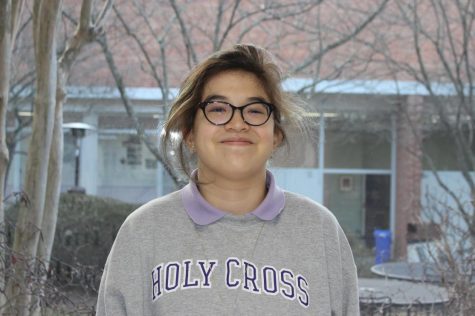 Chanda Chung, Reporter
Chanda Chung, or Saturn, is a freshman at AHC, and it is their first year on Tartan Times. They enjoy many clubs and the outdoors, especially the ocean...