A Show of Resilence
With the change from "School of Rock", LOTAs step forward to lead.
The January meeting for the cast and crew in the theater for the spring performance revealed that because of COVID-19, School of Rock was canceled, to much disappointment. However, three groups of students rose up to the challenge and presented their ideas for an alternate, student-led show.
The plays, one traditional and two student-written, would be Trail to Oregon, Pandemic Problems, and Mended Records. With help from the Performing Arts Department, it would all be LOTA led, with the teachers guiding and aiding in the writing process, techniques, and technicalities of running a show.
"[It's] been a challenge, but I think it is a good one," performing arts teacher Dale Placek talked about having students directing the production. "It's a lot of work on the student leaders," Placek added.
Student work included scheduling, directing, and writing scripts, which Placek reviewed and edited with the directors and cast of each performance.
"The day-to-day of it looks like it's a lot of floating around from group to group," said Placek. "Just really being available to them."
Junior Reese Long, director of Pandemic Problems, a show about the pandemic and how it affected all of us in these trying years, found writing and managing a production to be a challenge sometimes.
"It's a lot more work than I expected," confessed Long. "It's given me a greater sense of appreciation for everything Mr. Placek does because there's just so much work and there's just so many things to do."
Long's co-director and co-writer of Pandemic Problems, junior Preeti Kulkarni, had only done technical work before stepping into the new role.
"I think being a director in this play has been really educational for me because I haven't even acted in a play at AHC," admitted Kulkarni. "It's a really rewarding process."
Junior Meg Stone, sole director of Trail to Oregon, agreed that even with all the obstacles and challenges, it was an important endeavor.

"It's a very interesting experience. It's really stressful," added Stone. "It is a good learning opportunity to see what directors do and where they are coming from."
While directing the shows is new for everyone this year, most of the cast and crew are returning from Gospel, excited at the new ideas and opportunities presented with the production.
"[During] Gospel, I was in tech," senior Mercy Asamoah, writer and director of Mended Records, explained. "I didn't really participate in the acting process."
Asamoah explained how learning an instrument, learning how to act, and directing for Mended Records, a musical about high school and friendship, was both difficult and fun.
"We just learn from each other," Asamoah happily exclaimed.
Even though there is much excitement towards this production, there is also some trepidation.
"I really wish we got to do School of Rock," revealed Long. " I feel a little lost because it's my first time directing."
Stone also was challenged by being a first-time director.
"It's isolating being the only director for my play," told Stone.
However as the students and teachers came together to finalize the show, the theme of resilience shined through.
"This is a great alternative to sort of showcase what students can do and show our resilience," explained Kulkarni.
The new opportunities also were insightful for the leaders.
"We have a chance to actually just become experienced in those fields we don't have a chance to do," added Asamoah.
"Even despite our great differences, it's just that we all get together and have fun," ended Asamoah.
About the Writer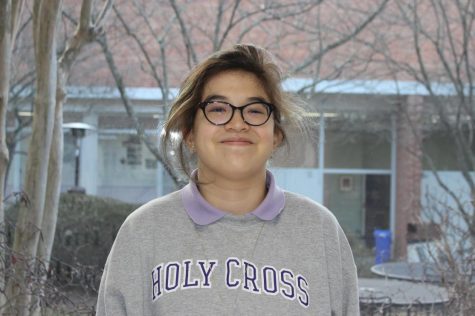 Chanda Chung, Reporter
Chanda Chung, or Saturn, is a freshman at AHC, and it is their first year on Tartan Times. They enjoy many clubs and the outdoors, especially the ocean...