Back with Track
After an amazing and accomplished cross country season came to a close after the Maryland Championship race, the indoor track season began. Many of the team's athletes have been looking forward to this sport since the summer, and now with a team of 25+ athletes, this year's team will have many successes to get excited for.
Practices are looking a little different this season; with no assistant coach and a huge team, the team has been split into a distance group and a sprint/hurdle/jump group. The practices are now staggered to give both groups the best time to train and more equal time with the coach.
Training itself has remained the same, with a mix of strength training in the weightroom with core exercises, strength band training, and using the weights and jumping blocks, to endurance and speed training with longer distance runs and intervals, explosive start practices, and relay work with batons and handoffs.
Some of the workouts are very similar to cross country, but with emphasis on strength and explosiveness.
"They're so different you honestly can't compare, track is easier because of the distances, and yet harder and more intense at the same time," Sophomore Alessandra Aguila commented.
Although the insensitivity is amped up, many of the girls prefer the track season. "It's a flat surface, it's much better than dying on a hill for cross country," Sophomore Elena Sunderman agreed.
One of the most anticipated parts of this season will be the in-person meets that the team will get to attend. These meets take place largely indoors and last for most of the day. Meets this year will even get to take place in other states.
"We travel as far north as New York City and as far south as Virginia Beach," track and cross country coach Carlos Pla explained.
One of the team's favorite meets that many of the new athletes have not yet experienced is the New York meet. This is a three day, overnight meet that takes place in January. The team stays right next to Times Square, and competes on a very fast track. Included in the fun is getting pizza and bagels before and after the race).
Another sleepaway meet taking place is the Virginia Beach meet, this is an optional trip that takes place over New Year's weekend. The athletes and their families that go get to stay in hotels by the water, and even have a little New Year's celebration by the beach. The girls who attended in the past agree this is an incredibly fun and fast meet. The track itself is hydraulically controlled to give the athlete the most momentum around the banked turns.
Like cross country, the team is going to work in more team bonding events along with all of their meets; with more pasta dinners, Chipotle runs, a secret santa, and possibly even a color run. Experiencing cross country getting back into its natural swing has the girls excited for seeing what this indoor track season has to bring.
"This is going to be an actual season, so we'll be able to actually travel and have team dinners and do all the things that make track, track," Sunderman said.
Overall, this year's team has a huge variety of talent in events; from distance runners, to hurdlers, throwers, and jumpers. Each one of the girls has a place to excel, and they are looking forward to an outstanding season.
About the Contributor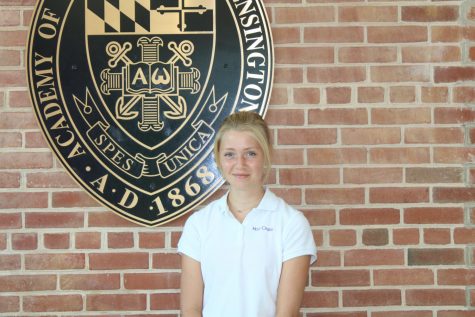 Annelies de Moor, Reporter
Annelies de Moor is a sophomore at AHC, and this is her first year taking a journalism class. Annelies runs cross country, indoor, and outdoor track for...