The Pros and Cons of Having a Job during High School
Holy Cross provides students with an intense academic rigor to prepare them for college. As a result many students find it difficult to balance extracurricular opportunities like working part time during the school year. Part-time work can develop important skills for young adults but can also be a daunting challenge for many students.
An important reason for a job during high school is extra income. Junior Sophia Pimenta has been working for the last year after school and on weekends.
"I wanted to be able to spend money without having to worry about running out," Pimenta remarked about her reason for working.
Holy Cross counselor Carly Authement agreed that "there is a financial benefit," and that having a job can provide economic independence and opportunity for young adults.
"I worked when I was in high school, and that was because I wanted to go out and I wanted to buy things," Authement explained.
In addition to financial freedom, part-time work provides a development of skills that can be attained through other extracurricular activities.
"It's important to note that, some people do internships, some people have leadership roles in their extracurriculars, and some people work," Authement reminded. "I think that shows grit and resilience and good character when someone's able to do that effectively."
These skills and benefits require a sacrifice of free time, which can be much needed when balancing a heavy workload. Pimenta explained her after school work is "from about 3:30 to 7:30."
"I leave school as soon as I can. Quickly go home and change and try to get to work on time. And then after I'm there for four hours, I'll come home and take care of homework as well as eat dinner and shower," Pimenta listed.
This schedule does not leave much time for homework or other extracurricular activities. This is the case for junior Abbey Sloane who juggles both the burdens of junior year academics and club sports.
"I would definitely work during the school year but not during junior or sophomore year because of club volleyball," Sloane declared.
Understanding personal boundaries and limits would be the key factor when debating the pros and cons of partaking in school part time work.
"I think planning is the biggest part of it, and knowing who you are, and not pushing yourself too hard," Authement shared.
About the Contributor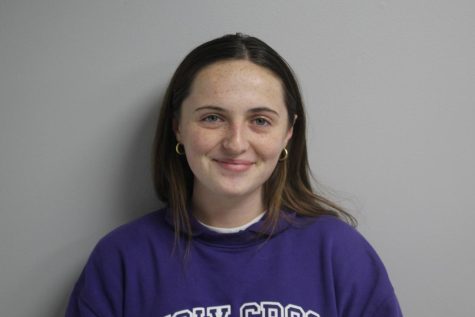 Erin Cuddy, Reporter
Erin Cuddy is a junior at Holy Cross. She has been a member of the soccer team for the last three years and co-started the Jesuit Refugee Service Club....