The Making of a Musical
Holy Cross Students have begun preparing for the upcoming "Spongebob the Musical." Most people are interested in those who star in the show, while there are plenty of others are just as important, but whose jobs are sometimes less noticed. Sophomore Emily Dukes is shifting from her usual position to something new, going from behind the scenes to on stage.
While the actors prepare by memorizing lines and learning dance routes, the production crew ensures that every tiny detail is ready for opening night.
"I am very used to being backstage doing technical work, and now I am actually on stage singing the songs," sophomore Emily Dukes said. "I have to work with people in different ways than I did when I was backstage and it is definitely stepping out of my comfort zone to be someone new, instead of myself. When I am backstage I get to be myself which is easy, but now I have to act as someone else."
The people that work backstage are a strong community of people who work well together.
"Communication and general respect for everyone in the production are vital to a successful show while working backstage," Dukes said.
Working behind the scenes has a variety of roles and responsibilities. Some of the jobs include stage manager, set designer, sound, and lighting.
"My job is to make sure the cast is on time, attendance is taken, and that there is communication between the teacher and students," stage manager Katherine Blick stated.
This is her first production as a stage manager and she is eager to see how things go.
"The job of a stage manager is simply to keep the departments in check," Blick explained.
She wishes that more people knew that stage managers exist and are the ones that make everything run smoothly.
"On days of rehearsal, I arrive 15 minutes early to make sure everything is prepped for the day," Blick explained. "Before rehearsal begins I make sure to give out roles to the other stage managers."

The students oversee the majority of the production, with the help of some adult mentors, one of which is the Director of Technical Theater, Kevin DeSouza.
"We as a department work well together because we know where we can support each other best," DeSouza said. "We have a good group of talented and committed students who want to see the show succeed."
DeSouza expressed how the "commitment and work ethic from the tech crew is valuable and wonderful."
As the production progresses there is much to look forward to including live on-stage sound effects and the fact that the set must be made completely by hand.
"Two to three weeks before opening night there is a turning point, where the students must take ownership of their work," DeSouza said. "I enjoy seeing the celebrations of success and how when things go wrong there is a collaborative and thoughtful effort to make it right."
The students will have the opportunity to view all of the hard work from the students both on stage and behind the scenes on opening night on March 24, 2023.
About the Contributor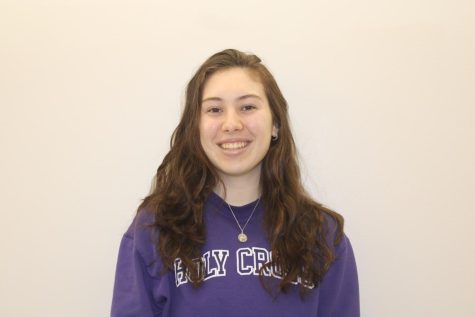 Allyn Ransone, Reporter
Allyn Ransone is a member of the class of 2023 at the Academy of the Holy Cross. This is her first and last year at the Academy and she looks forward to...