Tartans Take Care
As the school year starts gaining momentum, students are finding their own ways to cope with stress in an academic setting.
Students are delegated responsibility both by themselves and by the Holy Cross community. Junior Gaby Lopez serves as treasurer on the Executive Board, helping to contribute with activities that affect the entire student body. Along with responsibilities as treasurer, Lopez also participates in sports and clubs while maintaining the grades required to avidly participate in each organization. As the only junior on Holy Cross's Executive Board, Lopez faces a heavy workload for school between assignments, sports, and Student Council.
"Time is the biggest stressor for me at this time of year," Lopez admitted. "There are so many things to do in not enough time. I have soccer then all my work and tests so it's very time consuming to do my best in both while maintaining good grades."
In many ways, Holy Cross has been supportive to students throughout the school year. In addition to the Tartan Minds Matter club, the Anti Racism Advocacy Board also works to decrease stress and issues imposed by prejudice regarding race and cultural background. These students also take time to help make the school a safe place for all students. There are several clubs meant to help students with their well being, all of which are primarily student run. These student leaders choose to take time from their busy schedules and put it into spreading awareness, creating a safe space, and providing resources.
As co-heads of Tartan Minds Matter, seniors Alika D'Souza and Theresa Edwards spread mental health awareness in their club meetings.
"It's a club centered around mental health and well-being, to reduce the stigma surrounding mental health, and overall equipping students with education and resources about mental health," D'Souza explained.
Along with students supporting other students, adults at Holy Cross also work to assist them in aspects of academic life. One example of accommodating faculty and staff are the school counselors, Julie Ritter and Nia Reddick.
"Certainly, my job as a school counselor is to support students in all areas… It really varies, and we do our very best to use our skills to make students feel heard but also to offer solutions and ways to get around whatever is concerning them," Ritter shared.
Even in a supportive community such as this one, students learn to accommodate themselves and help each other outside of structured circumstances, too.
"I would recommend that my classmates make sure they ask for help from trusted adults, parents, and counselors when they need it and to communicate with their teachers," D'Souza advised. "I think it is also important to make time for things that you enjoy, even if it's only a couple of minutes here and there."
The school community that has been created to support students has been and still is helping individuals in many different ways.
"We're an all girls school and that 'courage, compassion, scholarship' piece is very real, and I see it day to day," Ritter explained.
About the Contributor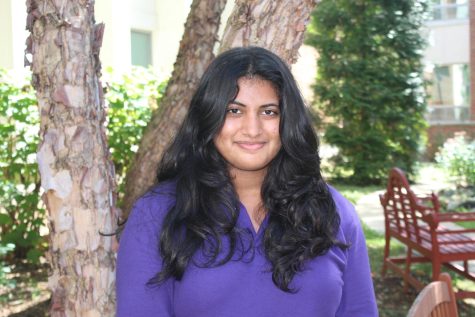 Nina Thomas, Reporter
Nina Thomas is a freshman at AHC. She is excited to participate in her first journalism class, and is even more excited to be a reporter for Tartan Times...