The Road to Office
By the beginning of November, the class of 2026 Student Council officers will have campaigned, been voted for, and sworn in to their office.
The student council is composed of four students from each grade, filling the positions of President, Vice President, Secretary, and Treasurer. Sophomore, junior, and senior elections take place towards the end of the school year every year, but freshman elections take place towards the beginning of their first school year. Before the LOTAs can begin to think about and start their campaigns, they first need to decide what it is they are running for.
This decision is an important one. Freshman Nicoletta Argyos decided to run for Treasurer. She believes she "was best fitted for the position" due to her "love of math."
While each Student Council member has their own special niche to help them in their position, all members work together to improve the overall welfare of our Holy Cross community by bridging the gap between the faculty and students and planning fun student events. Student Council also is a great way to foster the connections between the students in each grade.
Junior class president Ava Friedman tries to "reach out to all of my classmates and make them feel comfortable with me."
"I would advise someone who wants to run to be confident in themselves and have confidence in what they can achieve," Friedman said.
This confidence can stem from many different places, but for many LOTAs this comes from other leadership positions at their middle schools such as Student Council officers or class representatives. Not only do these positions provide the members with confidence, but also the tools to communicate efficiently and effectively.
Argyos plans to mention her past experience as president in her speech. In addition to school recognition, it has also given her a "sense of what it's like to be a part of a team full of leaders."
Even with this past experience, she still has a few worries regarding running. Since freshmen have been AHC students and classmates with each other for less time, they may not fully know the members of their class. Giving their speeches is a great opportunity to introduce themselves, share their values, and make themselves more known to their fellow freshmen.
"I'm still nervous that not enough people will know me beforehand though," Argyos shared.
Student Council moderator Ashley Garder has tried to reinforce and remind students that everyone has an opportunity in the elections.
"That's why we have students give speeches—to give each student a voice," Gardner explained.
Freshman elections were held earlier this month, and those newly elected members are now members of the Student Council helping to plan lots of fun school events.
About the Contributor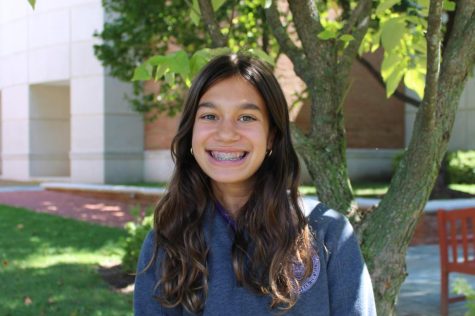 Sophie Epshteyn, Reporter
Sophie Epshteyn, class of 2026, is thrilled to be a member of Tartan Times this semester. Even though she has not been a Tartan for very long, she...