Senior Year Surprise
At the first ASA of the school year, seniors were in for a surprise when the curtains in the auditorium opened to reveal a lounge for them. The seniors were thrilled because now they have an improved place to relax and be together after a tough few years.
Kathy Hannah, Dean of Students, coordinated the senior lounge. There are posters, a couch, and a table for seniors to do work or settle down to relax.
"I have a friend who was an alumni from here whose mom is a interior designer," Hannah explained
A few weeks in and the lounge still looks good as new. With upcoming college essays and admissions, seniors definitely will find the lounge a good place to destress and concentrate during these stressful moments.
"I finish up any homework I need to do, and after a long day I like to relax on that couch," senior Sara Thomas exclaimed.
The lounge on the stage has not always been as inviting. Students who have been at Holy Cross are glad the new version of the lounge is somewhere where upperclassmen can study.
"Last year it wasn't much of a hangout spot because there were things on top of the stage," senior Cat Warren admitted.
Early in the morning, during Tartan Time, and during the upperclassman's study hall there are students working hard, studying and relaxing.
"It's peaceful and quiet sometimes so that I can get my work done," senior Eve Kirvan claimed.
The seniors appreciate a nice time to be together and have a fun time after the past Covid years when that was not always possible.
"We wanted to make a goal to make it special and we encourage next seniors to come with ideas for senior traditions," Hannah explained.
About the Contributor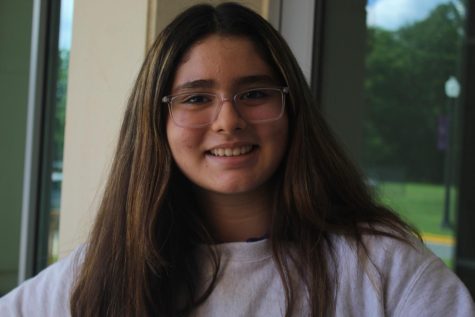 Mariana Morales, Reporter
Mariana Morales is a freshman at AHC. She is very excited to be part of Tartan Times and the Multimedia Journalism class. In her free time she likes...