Freshmen Crash Course: a Few Things Every Freshmen Should Know
As the doors burst open on the first day of school, nearly 100 freshmen streamed in and began their journey as Tartans. Because the sophomores, juniors, seniors, and even some of the faculty were once in their position, they have lots of insight and suggestions as to what the freshman should do and know.
Junior Yasmeen Nekoui is new to AHC this year, but has quickly learned how important it is to "throw yourself into the unknown and try everything new to see what might stick."
Especially with the relaxing of restrictions, AHC has been bringing back some of their well-loved school traditions, such as the mixer, pep rallies, and homecoming. Everyone is excited to attend these events again, but freshmen may have a slightly different perspective. It can be especially daunting for them to go to these events among the other grades and faculty.
Senior Megaen Mathews has similar thoughts. She strongly encourages going to these events in order to fully bond with fellow LOTAs. She urges freshmen to "not be nervous to go to [AHC] sponsored events."
Matthews also suggests becoming involved with these activities. She reminds new students that it should not be embarrassing to fully submerge into the school community.
"School spirit is important and very valued here at AHC," Matthews explained.
Entering high school is a very big change from middle school, where new students need to learn how to manage relationships with friends and teachers. As they create and forge these friendships, sometimes drama and stress can arise.
"In the long run, the biggest piece of drama at the moment will actually seem so irrelevant in retrospect—definitely have fun and have a social life, but prioritize academics over social drama," Nekoui reminded.
Nekoui suggested a few ways to plan ahead by prioritize academics, starting as early as freshman year.
"Look for scholarships or intern opportunities that might arise, but don't force yourself or stress yourself out," she shared. "You definitely still have time, but try not to let any of these opportunities go to waste."
Even dance teacher Donna Reese was once in our position, as she graduated from Holy Cross in 1977. While she still remembers her experience as a freshman, she has also been an advisor for many years. Throughout her years of experience, she has collected multiple pieces of information, advice, and recommendations for incoming students.
"Reach out to people that you don't know from middle school, especially girls who are coming in not knowing anyone. Ask them to sit with you at lunch and become friends with them," she suggested. "The four years will fly by, always remember that you're sisters and you must take care of each other."
About the Contributor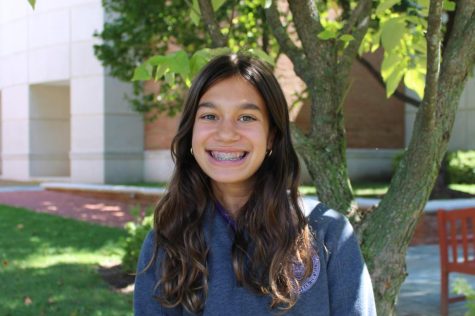 Sophie Epshteyn, Reporter
Sophie Epshteyn, class of 2026, is thrilled to be a member of Tartan Times this semester. Even though she has not been a Tartan for very long, she...