Students Mixed it Up at the Start of September
For the first time since 2019 students were able to attend the fall mixer with guests. The night of September 9 students from all grades and guests from multiple schools filled the auditorium in beachwear. A DJ played music and students danced for hours.
A lot of planning went into the event. With two years of an alternate event, Student Council moderator Ashley Gardener was eager to get back to before.
"We followed everything that we did before," Gardener explained. "This was my first time planning a mixer, we did the same exact setup as we did pre-covid."
With the challenges it brought highlights for senior class officer Chiara Militello.
"Being able to bring back such a fun event that our school can host after not having it for almost three years," Chiara shared. "I remember my freshman year it was super fun and a great way to start the year off. I wanted other students to have that experience I did. It was super fun to be behind the scenes."
To plan a mixer at the beginning of the school year with students brings challenges.
"It being right at the beginning of the school year, with Back to School [nights], the first week. Student Council worked really hard," Gardener explained.
Due to the two year hiatus, the juniors and sophomores were not able to experience a mixer like this, and the freshmen, being new to the school, had no clue what to expect.
"I didn't know what a high school party was going to be like, I thought it would be like how the freshman orientation was. A controlled party with painting and all that stuff," freshman Phylicia Martin expressed. "I really liked how the high school party turned out."
The theme this year was beachwear vs. biker gear. Freshman, sophomores and juniors and their guests dressed in flower leis and Hawaiian shirts. Each year at the mixer the seniors dress in a counter theme. Student Council worked hard together to create both themes.
"We enjoyed summer and we wanted to keep it going. The thought of summer and being able to have summer going as school started, it was an easy way to get people excited," Militello disclosed.
To dress in theme a lot of planning went into it. Both themes encouraged creativity.
"I wore a crazy men's Hawaiian shirt, a tiny sparkly cowboy hat and bright pink sweatpants," Martin shared.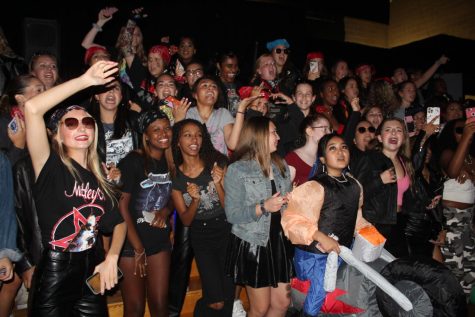 For the senior theme it was the complete opposite in all dark clothing.
"I wore a Harley Davidson shirt, leather pants and Converse. The classic biker,"was the look Militello was going for.
Planning for the counter theme is always the highlight of the night for the seniors. A mixer tradition is for seniors to wear something opposite of the theme to crash the party.
"We thought it was something no one would think of and it is unrelated to summertime and weather," Militello explained. "It was kind of most opposite of what a surfer or what someone would wear at the beach."
The room was dark and filled with people in beach and biker gear. A few glow sticks were scattered around the room. Next year the mixer is expected to return and one that all those involved in planning want to do one thing.
"More decorations" is something that Gardener wants to add.
For the students, the mixer brought back a wonderful sense of group fun.
"The dance circle, I feel like most of us didn't know each other because we went to different schools but when we came into the dance circle it didn't matter, it was just fun dancing," Martin described.
The dance for students consisted of two things.
"Music and dancing, it was fun," Martian exclaimed.
About the Contributor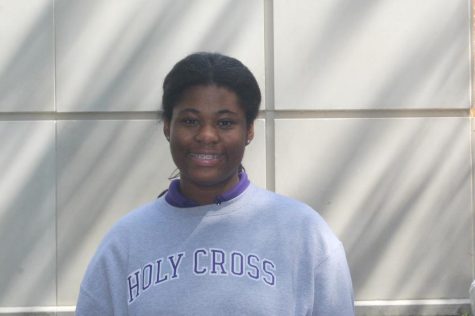 Kadence Woolfolk, Reporter
Kadence Woolfolk is a member of the class of 2025 and is looking forward to being a part of Tartan Times. After school, she swims and dances ballet....