LOTAs in the Summer
Over the summer, LOTAs not only sleep in and relax, but many students take this opportunity to expand their horizons and try things that they have never done before, like leading summer camps, traveling to places they have never been, and other new endeavors. The summer is also a good opportunity to meet new people and to spend time to reset after a busy school year.
Junior Heaven Yohannes shared her plans for the summertime, as she anticipates the last week of school and looks forward to the summer weather. She conveyed her excitement for traveling out of Maryland and visiting many fun places.
"I want to travel and meet new people and also just try new leadership positions," Yohannes stated. "I'm planning to go to the beach: Ocean City, Virginia Beach, Myrtle Beach."
Junior Katie Celeste also expressed her excitement for leadership opportunities in this upcoming time away from school, and is also excited for her upcoming work with children this summer.
"Over the summer I will be working at a summer camp and expanding my leadership skills," Celeste explained.
Finding leadership opportunities over the summer is a common interest among students, especially as they begin applying for colleges and creating their résumé. Another common activity among rising seniors is beginning to apply to colleges and writing college entrance essays.
"I'm not looking forward to college applications," Yohannes shared, "starting the whole college process and summer work."
Aside from the stress of college applications and schoolwork, students are looking forward to their next year at Holy Cross and are anticipating the upcoming traditions they get to participate in.
"I'm excited to be a senior and for the fun we'll have at Holy Cross Day," Celeste shared her enthusiasm.
For students who would like to get a head start on their next year's classes, there are six academic courses for students to participate in over the summer, including an Application Academy which is designed to help students as they prepare their college applications.
"In Application Academy, juniors come in with drafts of their essays and they are reviewed by college administration representatives," Celeste said. "Students are given this opportunity so they can have their essays completed before the new school year starts."
About the Writer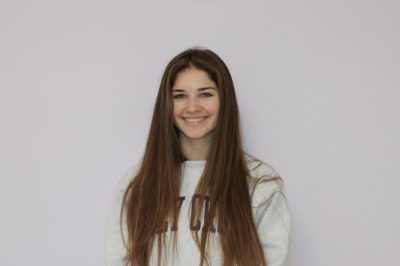 Maegan Mathews, Reporter
Maegan Mathews is a junior at AHC. She is currently in her first multimedia journalism class, and is very exited. In her free time she enjoys playing soccer...