Students Studying for Exams
As finals season approaches, students are beginning to study for their exams. Studying is a solid way to make sure students receive a good score on their assessment but it benefits to explore different studying options.
Many people have a specific method of studying that helps them perform the best. A popular method is using flash cards.
"Usually I make flash cards or I use Quizlet to study. I do that because it helps me with memorization," sophomore Veronica Gomez said.
Flash cards help with memorization by writing and reading the cards.
"I prefer using flashcards because it tends to help me better. Writing out [the terms] just helps me remember it," sophomore Kaylee Ruleman agreed.
While flashcards are a popular method of studying, it is not the only one. Chemistry teacher Sally Craven uses a different technique for studying.
"I love to take notes on notes," Craven explained. "So I would take notes during class and then that night I would organize my notes. Every time I studied I would rewrite them and organize them more."
While studying can help students earn a good score on a test, not everyone is successful with studying.
"For me I think [studying is] beneficial but not everyone does well with studying," Gomez pointed out. "It just depends."
Studying is certainly important, but overdoing it can cause more harm than good.
"Never overstudy because that makes you forget everything else but also don't understudy because that won't be enough," Gomez articulated. "Make sure you study for the amount of time that you know will yield the best results."
Studying can help people prepare for an assessment but it also helps them learn the material. Studying as students learn new topics will help them commit those terms to memory.
"Don't wait until the last minute, " Craven warned. "You should study to learn the material. Don't study just for the test."
About the Writer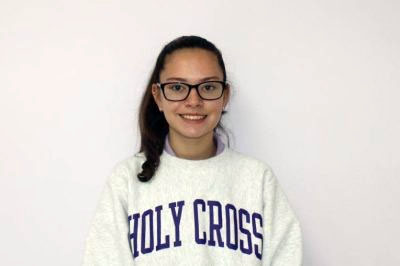 Elena Sunderman, Reporter
Elena Sunderman is a sophomore at The Academy of the Holy Cross and this is her first time taking journalism class. Elena runs on the cross country, indoor...