Scavenger Hunt
Giving back to those in need
The hunt for the infinity stone took place through the last half of March through the beginning of April. LOTAs searched the school every day with a new clue to finding the stone for the week. When an Infinity Stone was discovered and taken to Peer Ministry, the reward was cans donated to the finder's for the Lenten Food Drive.
Peer Ministry along with Social Justice put together the Lenten Food Drive to involve all LOTAs into giving back to the community. They created the scavenger hunt to get LOTAs excited to get involved with giving to those less fortunate and those who are in need of food. Making a change one generation at a time, starting with the LOTAs.
Peer Ministry and Social Justice developed fun activities throughout the month to generate interest. Everyone's favorite was the hunt for the Avenger Infinity Stones. They had every grade searching around the school for the week's Infinity Stone led by clues given each day by the Peer Ministry.
"Peer Ministry came up with the idea of the Avengers and is trying to tap into the hype that is surrounding Marvel right now for the Lenten food drive. They were hoping that the finding of the Infinity Stones would gear people up for bringing in items for the Lenten food drive," Linda Ruszkowski, Director of Campus Ministry and head of Peer Ministry, proudly exclaimed.
She was happy to see so many different people popping into her office asking questions about finding the Infinity Stone each week. She was especially excited and proud to see so many LOTAs involved in helping the community and giving back.
"It felt like there was a nice buzz around it and it was a lot of fun seeing people search and having people stop by the office to ask questions about the week's stone," Ruszkowski explained. "It felt good to have different faces that came into Campus Ministry. It was fun to see everyone get so involved."
Students from different grades went on the scavenger searches every day looking for the stone of the week. The thrill was exciting for the students and they wanted to be the one to find the stone and receive cans donated towards their grade. Students spent most of Tartan Time looking in groups to find the week's stone. It was a huge deal to have so many people involved.
"I love how Peer Ministry incorporated the search for the stones into our everyday activities because it became a challenge and everyone was so excited to find them and it definitely got the whole school excited and ready to find the stone," junior Grace Bryant shared after finding one of the stones.
About the Writer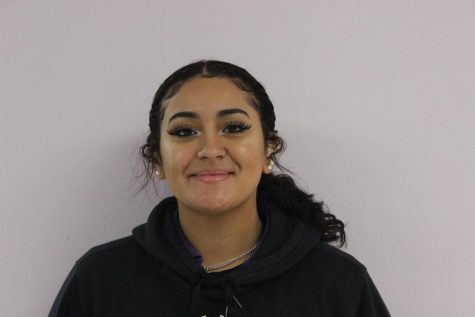 Allyna Flores, Reporter
Allyna Flores is a junior student at AHC. She is looking forward to becoming a better reporter for the school. Her favorite subject in school is math and...