Auditioning Talents
The talent show is an annual event at Holy Cross, held this year on March 25. Students at Holy Cross auditioned during Tartan Time on Thursday, March 24, in order to participate in the show.
Ashley Gardner, a science teacher at Holy Cross and a Student Council moderator, was part of the judges panel during auditions and worked on planning the show.
"The talent show has been a tradition for many, many years, and we wanted to bring it back," stated Gardner.
Gardner added that there were sixteen acts in total and that all of the students who auditioned made it to the talent show. She shared that there were many acts including piano playing, singing, and dancing.
"The whole school will be there on Friday, during Tartan Time to watch the show," Gardner explained.
One of the performers was Natalie Seldon, a sophomore at Holy Cross. Seldon has composed poetry for many years, and planned to read one of her original poems. Seldon got to auditions, at the Holy Cross studio, twenty minutes early. She was planning to review her audition early, but the judges were already downstairs and gave her the "go" to audition.
"When I got downstairs I was the only one except for Mrs. Gardner and Ms. Mullikn. It was very quiet and kind of awkward," Seldon described.
Seldon explained that her reason for auditioning was that she wanted a change in her schedule. She wanted to challenge herself and show off her talents.
"I wanted to do something out of the ordinary, something that could challenge me," Seldon mentioned.
Esme Dorsey is a sophomore at AHC and she auditioned for the talent show on Thursday. For her audition she sang a song in front of Gardner and Erica Mullikin, religion teacher and the other Student Council moderator.
"My audition went very well. Mrs Gardner and Ms Mullikin were very kind and welcoming during auditions," explained Dorsey.
She added that she wanted to audition because she wants to express a message through her singing. She sang "Warrior" by Demi Lovato and she hopes she can spread that message through her song.
"It is a very emotional song and I want to share that we are strong not by making things easy but by pushing through and keeping resilience," Dorsey remarked about the song's meaning.
About the Writer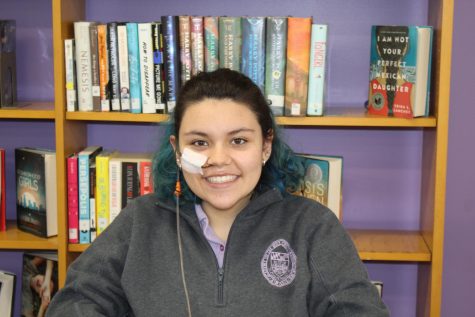 Isabella Grijalba, Reporter
Isabella Grijalba is a sophomore at Holy Cross. She loves to read and her favorite book is Fabiola. Isabella is super exited to be partaking...