Music Class is Fun for Students
Holy Cross has different music classes. There are singing classes, instrumental and guitar. Everyone can take these classes.
Guitar class is very fun and very cool to play the guitar.
"Guitar officially a month, but going on month two. I am excited about that," Keira-Lynn Fomene shared her experience in guitar class.

Fomene really likes the class.
"This will sound weird but It is disorganized. We aren't always sticking to the book. We get to play different songs. We are able to sing and it makes it a fun learning environment," she described.

Natalie Thomas is another student in guitar class. This is her first year playing guitar as well.
"I like how Ms. VanD uzer is super helpful. We get to play really fun songs and I learned a lot because I have never played before and this is my first time. I have only been taking the class for a few classes and learned so much," Thomas said.
When asking Fomente and Thomas what they liked best about the teacher they said,
"I really like Ms. Van Duzer, she is really nice and kind. She is super helpful and fun. I really like her," said Thomas. She also thinks that the music teacher is the best and very sweet and smart.

Laura Van Duzer is the music teacher. She has taught guitar for 10 years.
"Ms. Van Duzer makes it fun. Especially since we get to play songs, which is my favorite part. Because I feel like in the future. playing guitars while playing along with the songs makes it a lasting memory," said Fomene.
"I love so many things. I love how versatile. It can be soft and acoustic or crunchy and loud in your face like electric. I like that guitar spans all different genres of music: to country, to gospel," Van Duzer shared. "Guitar has a place in the world's music. I also love that it is portable. I could take it to a bonfire or outside. You can carry it with you. When you play and sing at the same time, you can face the audience. It makes it feel more intimate. I also like that almost every person has a favorite song that can be played on a guitar."
Van Duzer wants class to be fun.
"I don't have to do a lot to make guitar class fun, because playing is real fun already. But I like to know what songs my students like to play and I like to know what they like to listen to," she said. "Because if you are playing a song that they like. They are more motivated to practice and get better."
About the Writer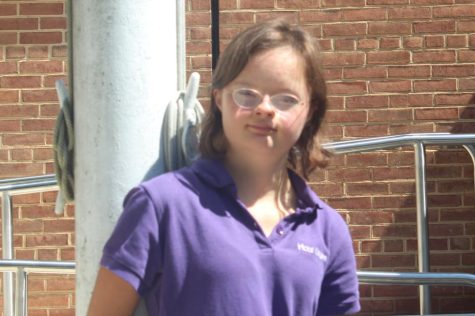 Margot Baumrucker, Reporter
Margot Baumrucker likes dance and history class because they are so fun. Margot is part of the Bocce team. Margot loves her older sister...