Strumming Through the Semester
Music is everywhere at The Academy; in Mass, classes, concerts, and clubs. One musical club is the Guitar and Ukulele Club. The club has been at Holy Cross for several years and has been home to the musicians of those instruments.
Laura Van Duzer, the music teacher at Holy Cross, moderates the club. She explained how she got involved.
"When I first started teaching at Holy Cross I learned that there was a guitar club already that was really popular," Van Duzer explained. "And there were only two music classes at the time."
Later, as the music program grew, students who played the ukulele asked if they could join the club and were welcomed. Guitar and Ukulele club meetings are relaxed and the members group up and teach each other things they have learned.
"It is kind of unstructured," Van Duzer expressed. "People just pull up a song on their iPad and play whatever chords they could find and together learn as a group."
The club does more than improve guitar skills, it can also help with collaboration skills among students.
" I feel like [the club has] definitely helped me with group working, being able to work well with other people, because it is very collaborative," senior Ash Dansker claimed. "It has definitely helped my collaboration skills."
The Guitar and Ukulele club performs in the Winter and Spring Music Concerts and students can see them in action on April 28.
"All the members would sing the songs or sometimes they would divide up the verse and the chorus between players," Van Duzer explained how the club performs for the concerts.
Anyone of any skill level is welcome to join the club, just as long as they are willing to learn and grow as a musician.
"Come with an open mind," Dansker added. "You don't have to know how to play anything, just be willing to learn and work with others."
About the Contributor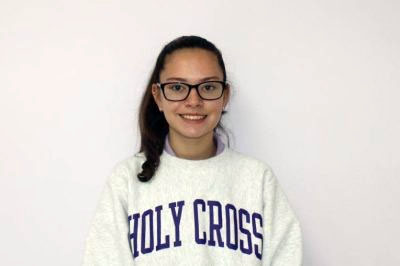 Elena Sunderman, Reporter
Elena Sunderman is a sophomore at The Academy of the Holy Cross and this is her first time taking journalism class. Elena runs on the cross country, indoor...