Athletic and Wellness Center Coming Spring 2024
Holy Cross students were excited as they learned of the new Athletic and Wellness Center that is planned to be constructed within the next couple of years.
School president Katy Prebble explained to the students that the school was offered enough money to make highly needed changes to the property by selling the property containing the driveway and the land that is currently occupying the lower field. A new driveway and entrance to the school will be constructed so that access to the campus will from Strathmore Avenue.

"Our hope is that they will start construction spring of '23 so it would be done by spring of '24 at the latest," Prebble explained. "The next steps will be that the old gym will be converted into a new student cafeteria, with a new food service area and a new kitchen."
Sophomore Mary Mongelli explained her concerns about the currency gym and athletic training office. As a student who often uses the athletic facilities, she is very excited for the new changes that will be coming to the athletic department.
"It is really compact, there is no seating, and I think the new gym will be bigger and more available," Mongelli stated. "I think [students] will be really excited to be able to enjoy something new and have more space on campus."
Freshman Ciara Cullinane shared her worries about the process of construction during the school day. She mentioned how it might be hard to focus during the day while people are working on building the new facilities.
"I feel mixed emotions," Cullinane said. "They are going to be doing a lot of renovations which can be distracting … but the end goal is super exciting."
Athletic trainer Alyssa Kocik described her excitement towards the new facilities that will be offered alongside the new developments to the athletic department. Kocik believes that the new materials that will be available will provide more assistance to athletes and other users of the facilities, and help them train effectively, and rehabilitate quicker after injuries.
"I feel like having that access to resources and space will allow me to keep you guys healthy and in sports as long as I can," Kocik claimed. "Having access to those resources will just make it easier for me to do my job."

The current size of the gym proves to be an issue for athletes and spectators that would like to support their LOTAs and their athletic endeavors. Since the current gum does not supply sufficient seating, the number of people that can comfortably sit in the gym is limited. With the new gym, there will be more opportunities for people to watch games, and also more opportunities to host schoolwide events.
"People don't come as often when there are going to be bigger games, especially during Covid," Cullinane said. "It's crowded and there are not as many seats."

Space and lack of resources is one of the biggest issues that is currently faced and the changes will benefit the students and faculty that are struggling with the facilities in the athletic department.
"I think the biggest thing is making sure that you guys have space, and you guys have the things that we feel like you need and deserve to have as both students and athletes," Kocik stated. "I think it'll make people feel more connected as a team and give them space to actually be a team."

Another major impact that this new gym will have on the student body is the fact that the student body will be able to gather all together for assemblies, pep rallies, dances, and many more things that were more difficult because of the size of the space.
"I think it is a really big moment for the school to have a new facility added," Prebble concluded. "I think they are going to be so excited when we are finally there [finished construction]."
About the Writer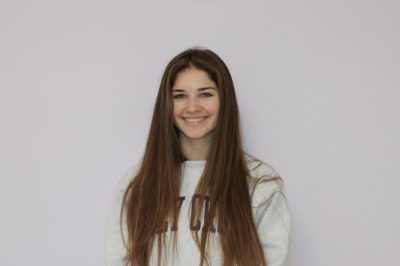 Maegan Mathews, Reporter
Maegan Mathews is a junior at AHC. She is currently in her first multimedia journalism class, and is very exited. In her free time she enjoys playing soccer...