The Four Eyes of High School
How do freshmen, sophomores, juniors and seniors experience high school differently? Over the course of four years of high school, maintaining grades is usually the number one priority. Additionally, activities, experiences, classes and encounters encompass high school expectations.
Freshmen are excited about opportunities. Throughout the year, they will be making new friends and taking new classes. "I'm looking forward to the countless chances to explore," cheered freshman Theresa Nguyen. The newbies also discover and enjoy the freedom that they did not have in middle school. "I feel like we have more privileges in high school than in middle school," remarked freshman Adaugo Umeh.
The sophomores also embark in new activities. Eligible for a learners' permit, the second years start studying for their driving test as well as the PSAT. Sophomore Lexington Hart admitted " I look forward to getting over with the PSAT."
Those in the junior class begin seriously thinking about college. College application preparation begins the third year. Additionally are the introductions to IB and AP classes, plus SAT and ACT testing. " I am finally able to do college tours," pointed out junior Daniela Cruz.
Then are the seniors, excited about their last of everything. This includes senior traditions, strengthening friendships and much more. " I look forward to bonding with my classmates for the last time as it's our last year, and hanging signs up for Holy Cross Day," expressed senior Katherine Pawlowski.
All students, regardless of year, worry about keeping their grades or failing to manage their time given the large amount of work they have. For juniors and seniors, the college application process is also worrisome.
As they move to the next year, students have advice for younger classes," Focus on academics and practice for tests for it really helps. Even though you'll have a hard year, once it's done you will feel really proud," said Pawlowski to the juniors.
Advice to the sophomores includes, "Study hard for AP US history! Madeleva scholars, make sure to do extra service hours before junior year. Don't stress too much for the PSAT," from Cruz.
Sophomore wisdom to freshmen, "Don't worry about friends too much because you will eventually make some. Don't rush as you're still adjusting and don't be too hard on yourself. Don't procrastinate, talk to your teachers and talk to your counselors if you have any problems or concerns," noted Tyra-Neil Morrison.
To the prospective Tartans freshman Umeh shared," There is no specific way to prepare for high school, but once you get there, just make a small group of friends. Study for the HSPTs."
Students show a diversity of feelings and expectations about high school. However, most agree that those four years are some of the best of their lives. They will learn and experience an endless number of new things.
About the Contributor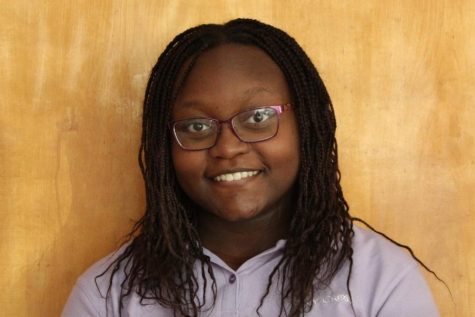 Riana Tadonki, Reporter
From the class of 2022, Riana Tadonki is a Tartan who reports for the Tartan Times. She enjoys most school subjects such as math and joined Multimedia...