The Aqua Tartan's Season
The Holy Cross Swim and Dive Team practiced together to improve and come together to become fierce competitors in the Washington Catholic Athletic Association. The team had an eventful season this year, with four wins and two loses.
The team, consisting of approximately 30 students, had many personal records at each meet held Wednesdays at Georgetown Preparatory School's pool. Coach Matthew Mongelli was encouraged by the progress of the team.
"Season's gone great. We had a few hiccups in December, but otherwise we have probably done better than what the team had expected," Mongelli disclosed.
Along with Mongelli, Hailsey Howard, the team's captain, also had a bright outlook on the season.
"We're doing great. Everyone's definitely improved from the first practice and we're kind of killing it," Howard communicated.
The team's improvement continued to grow week after week with several members qualifying for the Washington Metropolitan Interscholastic Swimming & Diving Championships. Mongelli was impressed with the improvements made by the team.
"It's been great to see all of the progress from top to bottom," Mongelli recounted.
The team also had the opportunity to learn from a coach who had mostly taught male swimmers and has different coaching style. After struggling for a couple years to find a coach for more than one season, Holy Cross was excited to have Mongelli as coach. Mongelli, who had coached Georgetown Prep's team for a couple years, experienced coaching both teams this year.
"Different, but they are very into it this year because they haven't had a coach for a couple of years so they're all excited and willing to go do something," Mongelli admitted.
Some swimmers were so enthusiastic about participating in the swim season that they decided to try diving as well.
Originally, there was not going to be anyone diving for Holy Cross this year, but one swim team member stepped up to the board to take on the task. With the one other Georgetown Prep team's diver, the duo were coached by the new dive coach, Robert Karns.
"It's been a great experience. It's also been a learning experience because this is my actual first diving coaching job and it's been really fulfilling. I really enjoyed it," exclaimed Karns.
Along with the incredible swim season, the team also had quite the successful dive season. Both the Holy Cross and Georgetown Prep divers held their own competitions against school after school with the swim team.
"I think that both of my divers were very successful. It was a good season overall," Karns added.

The Holy Cross Swim and Dive Team had one of the best seasons they have had since the pandemic. Though the swim team has a fair share of swimmers, Holy Cross will need divers for the next season.
"I would say if they really want to dive then to come out and see if they like it," Karns offered any potential divers some advice. "I'm a firm believer that you should try anything once and if they do like it, that should be something they could pursue."
About the Contributor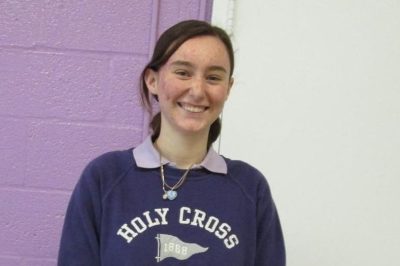 Eri Dougherty, Reporter
Eri Dougherty is a senior at AHC and is looking forward to spreading the news at Holy Cross. While writing for Tartan Times, she is an avid reader and...