Bocce, Bocce, Bocce!
Bocce is very fun with friends at school it makes everyone feel happy in a good mood.
Senior Sydney Nolan talked about her favorite memory.
"Dancing to the music before switching after the balls, before the game started," Nolan said.

Senior Adrianna Monzon- Osorio explained why she joined,
"Because I wanted to play a winter sport. I never played Bocce before because I thought it would be fun and the skills that I was doing," Monzon-Osorio said.

Monzon-Osorio likes "to keep score to track with the points."
Coach Cheryl King's passion for bocce came from her grandparents
"My grandparents always had bocce balls or lawn darts in their backyard," King shared. "I learned about Bocce at a company picnic when I was really young. It was lawn bocce. I've played it on the beach, indoors and in the grass too."
King coaches other sports too, but she coaches bocce because it gives all students a chance to play.
"It is an exciting game that everyone has the opportunity to be successful playing," King explained. "So it gives all students an opportunity to experience a team sport at the varsity level. And mostly I like coaching Bocce because I love the Bocce athletes, they are the best."
Monzon explained about learning bocce.
"To pick up on it pretty easily but how to do the points was too hard,"Monzon-Osorio explained.
Nolan explained why Bocce is important to her.
"I get to hang out with friends and focus on something," Nolan remarked.
The sport is in the winter. Bocce is like bowling. This is a team sport. One team rolls red, one team rolls green. How the game starts is when one person rolls a small ball down the court. Then each team rolls their ball towards the smaller ball. The ball closest to the smaller ball wins. There is a scoreboard to keep track on the points of the game. The team with the higher point wins. Last year the blue team won the bocce championship.
"The team is doing excellent this year. We had four teams that are playing each other that are tied for competition. We are having our final tournament," King said.
About the Contributor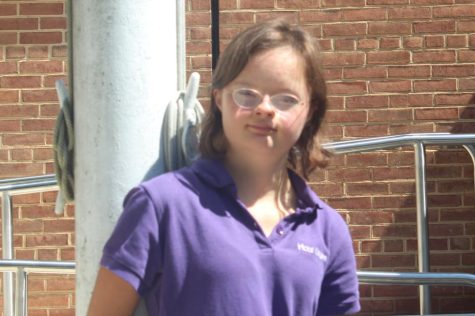 Margot Baumrucker, Reporter
Margot Baumrucker likes dance and history class because they are so fun. Margot is part of the Bocce team. Margot loves her older sister...