And They're Off! The College Process at AHC
For juniors and seniors, the college process is one of the most important aspects of their time at Holy Cross. Starting the second semester of junior year, students have access to the college counseling department and all of their knowledge.
Although the formal process begins junior year, students start thinking about college earlier.
"I started at the beginning of this school year because of SAT and ACT testing," junior Hannah Cameron responded.
Director of the College Counseling Kelly Tarini agrees that this is when students typically start thinking more seriously about college.
"Freshman and sophomore year are about getting used to high school," Tarini remarked. "It gets real for students in junior year, something just clicks."
The college process at Holy Cross typically becomes more serious in the second semester of junior year, but sophomores and freshmen are told to focus on keeping their grades up so that when it comes time for the process to truly begin, they are prepared. There are also college fairs for the freshmen, sophomore, and junior classes. Once students reach junior year, they begin meeting with their assigned college counselor, and start looking at colleges.
In senior year, students apply, commit to college, and wait for their university years to begin. This year's seniors have made their college decisions. Senior Jennifer Tartaglia has some insight from the other side of the process.

"It's definitely a relief now that we've chosen," Tartaglia stated. "And I'm excited now that we've started the process of all of the college things like orientation and choosing a roommate."
Cameron is looking forward to being a senior, and not just because of the college process.
"In general, I'm excited to get our senior jerseys and for all of the privileges that come along with being a senior," Cameron added. "But for the college process, I am looking forward to deciding on a college."
When it comes to choosing a college, Tartaglia wishes she knew more about them before applying.
"I wish I looked into my schools more before I actually applied to them because by the time I narrowed it down, I could have narrowed it down more to schools that I liked better," Tartaglia mentioned.
Tarini wants students to know that the process does not have to be a stressful or scary one.
"The students will follow college counseling's lead, and they always end up where they are meant to be."
About the Contributor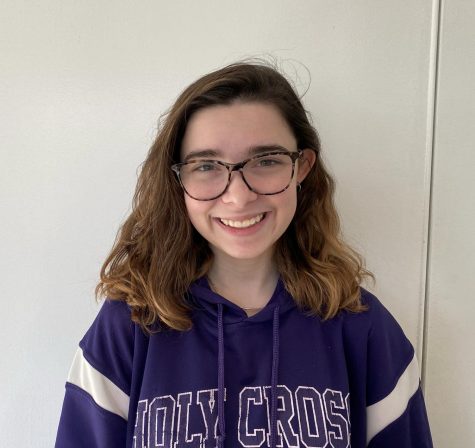 Megan Steele, Reporter
Megan is a junior at the Academy of the Holy Cross, and is excited to begin working on the Tartan Times staff. During her time away from the paper, Megan...