Tartans at the Net
Volleyball season has started at Holy Cross, but it is looking a bit different this year. Even with many ups and downs, but that has not stopped the team from playing their beloved sport. With COVID-19 still happening with the world, Tartans have found ways to participate in their after school activities once again by enforcing social distancing and the necessary precautions.
"Because of COVID, there have been fewer games and it's been harder to practice with each other due to social distancing," sophomore Leslie Lazo said.
Lazo has seen the upsides in the unusual situation by learning from other players on the team. She says they all play differently so it is a good way to learn new techniques.
"It's fun playing against each other 3 vs 3, we challenge each other and see how we all play together and against each other," Lazo explained.
Volleyball coach David Geiser also thinks COVID has given a chance for more opportunities for other players on the team.
"Everyone has gotten to play and we never had enough players that someone had to sit out," Geiser stated.
Geisner agreed that there have been fewer games but the players have had a chance to practice with each other and have had increased time for player development.
"The fall season has been interesting. It started in summer with outdoor and indoor for six weeks. Comps were the last few weeks of the season. We had a long nine months of player development," Geiser disclosed. "And now we have three freshmen on varsity and sophomores on varsity. Some individuals have made it an extraordinary team".
With COVID-19, social distancing has been very important, especially not coming in contact with each other. The team has found it hard to not be able to celebrate with a high-five, fist bump or hug.
"We're not able to touch each other, so it's been hard to find ways to celebrate. And people stare at us when we accidently do touch," sophomore Prisha Francis admitted.
Not only has the team been affected by social distancing, but the fans have too. With the restrictions placed on how many people can be in a room at a time, anyone who has wanted to watch a game has not been allowed in the gym, and have had to watch live-streaming of games.
"Only 25 people in total have been allowed to be in the gym for a volleyball game, including players, referees and coaches," Geiser revealed.
Yet, when the team needs motivation, they know how to push each other to do their best. If they need to be called out, or celebrated, the team is there for each other.
"We call out our mistakes to push each other, and cheer each other on for encouragement. We cheer for each other more though," Francis mentioned.
About the Contributors
Natali Lopez, Reporter
Natali is a sophmore at Holy Cross and is excited to start writing for the Tartan Times. She enjoys longboarding, biking, and spending time with her friends...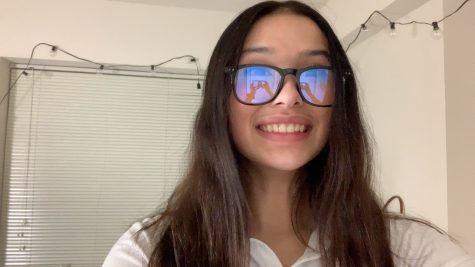 Mary Allen, Reporter
Mary Allen is a sophomore at AHC. Mary Allen plays lacrosse and volleyball at Holy Cross. In her free time, she is either practicing lacrosse or playing...