Literary LOTAs
Reading is a quintessential part of school and life, but this activity has started to fade away from some students' lives.
Required reading is a staple for any English class, especially here at Holy Cross. Students are instructed to read at least one to two books over the summer break, and once they arrive back at school, students usually read two to three books as a part of their schoolwork.
"I find the books we assign to be interesting, but the trick is to assign books that students think are interesting," English teacher Maria Effertz said.
Sophomore Emma Allan thinks differently about the books, but clarifies that it is just her taste in reading that makes her not like them.
"I find [the assigned books] to be a bit boring, but I am very particular about what type of books I read," sophomore Emma Allan mentioned.
The English department has begun to revamp the reading catalogue in an effort to diversify the reading requirements, as well as to include new and interesting authors.
"We are replacing the old books with new ones that reflect our student body," Effertz clarified.
Even with the required reading, students may start to form some sort of "reading slump" which is when they just lose all interest in reading, whether for pleasure or for school. Circle of Friends Book Club president Bianca David has an idea as to how this happens.
"It was probably a bad book experience or a boring book," David stated. "You want to start and finish something, and [the bad book] is keeping you from reading other better books."
The Circle of Friends Book Club is moderated by librarian Jean Cotter and led by David. The club meets about once a month to discuss books and what they are currently reading.
"We vote on books to read from student submissions," David explained. "Last semester we read All the Bright Places and right now we're reading Looking for Alaska."
If students find that they are in the midst of a reading slump, there are ways to escape its clutches.
"Find books that interest you the most," Allan said. "A lot of people read bad books and assume all books are bad, but they just need to find books that make them happy."
Junior Erin Dougherty agreed with Allan, and added, "If you are reading a book you don't like, just stop reading it and find a new one that you do like."
As for how some of the students became such avid readers, it may have started when they were younger.
"My mom reads a lot so she made me and my brother read with her," Allan explained.
Though it may not be for everyone, reading is a great way to stimulate one's brain and keep it working.
BOOK RECS FROM INTERVIEWS:
Effertz: Anxious People by Fredrik Backman, "I felt seen reading it."
David: The Selection Series by Kiera Cass "would definitely recommend reading!"
Allan: All This Time by Nikki Daughters and Rachael Lippincott
Dougherty: Salt to the Sea by Ruta Sepetys
About the Writer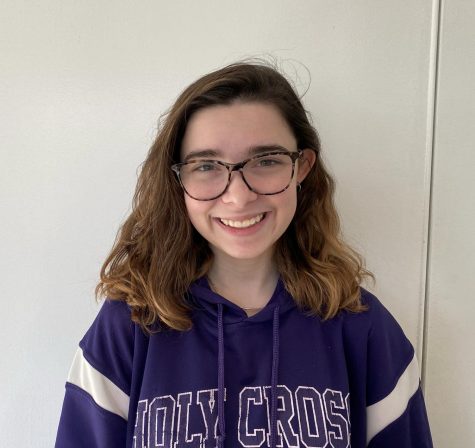 Megan Steele, Reporter
Megan is a junior at the Academy of the Holy Cross, and is excited to begin working on the Tartan Times staff. During her time away from the paper, Megan...