Happiness is…Teching the Musical!
From lighting design and props, to sound and stage management, and everything in between, the tech crew is full of opportunities, even in a global pandemic. This year, students at Holy Cross who are a part of the backstage crew have had to work hard online and in-person in order to put on the excellent shows that the school is known for.
In the fall, students from both Holy Cross and nearby Georgetown Prep produced an online rendition of Shakespeare's Much Ado About Nothing. Tech members had to work remotely, but were able to put on an online show that held up the standard for AHC shows.
"It's not too different from [online tech crew]," freshman Elena Flaim said. "We're able to do a lot of the same things we did online as we do in person."
Typically, seniors on tech crew are the heads of their departments, which include costumes, props, lighting design, sound, stage management, and build and paint.
"It is my first time being a tech head," senior Tyra-Neil Morrison stated. "There is a lot more responsibility, many more things to consider, and I have the opportunity to give my opinion to Mr. deSouza and Mr. Placek."
At the head of the tech crew, there are the directors for the musicals and plays. Kevin deSouza is the tech director and Dale Placek is the show's director. DeSouza believes that You're a Good Man Charlie Brown is the exact show for the current state of the world.
"It is a show perfectly suited for a socially-distant world," DeSouza described, "There are less necessary set changes to be made."
Producing a show during a pandemic comes with challenges. COVID-19 spreads through droplets in the air that are expelled by talking, coughing, and sneezing. Singing produces smaller air droplets which are more dangerous than the larger ones. Singing has been avoided for the past year because of this, which makes it difficult to put on a musical.
The solution to this problem was voice recording. Students have gone into the theater for personal recording sessions with the music director Laura Meehan, DeSouza, and Placek, and have recorded their songs for the musical in a safe way.
"I felt like a professional musician," junior Emi Moberg recounted. "It was definitely the safest possible way of doing things for the musical. It was the happiest medium, if you will."
Tech crew is great for multiple reasons described by DeSouza.
"The students make the tech crew cool," stated DeSouza. "The diversity of skill and interest that naturally creates a peer teaching environment makes it even better. The activities done encourage mental flexibility, and a student will be able to look at a situation and come up with a way to solve it that will meaningfully affect change in their environment."
You're A Good Man Charlie Brown starts streaming on March 26.
About the Contributor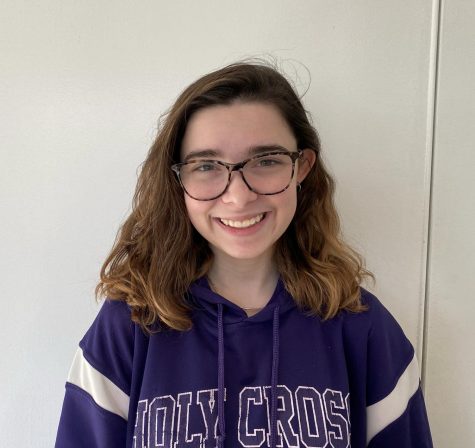 Megan Steele, Reporter
Megan is a junior at the Academy of the Holy Cross, and is excited to begin working on the Tartan Times staff. During her time away from the paper, Megan...