A Look Behind the Screen: Teaching During the Pandemic
Teaching during a worldwide pandemic can be daunting. Since March 2020, Holy Cross teachers have had to quickly adapt to teaching in a virtual environment and, as of that September, a hybrid one.
Teachers have had to develop ways to engage students and make learning fun even in an online learning environment. English teacher Virginia Clifford-Weiss likes to use fun and colorful PowerPoints to engage students, but it also helps her to focus as well.
"[The slides] anchor me and what I want to get to during class," stated Clifford-Weiss.
Teaching remotely was difficult at times, and some teachers were worried about in-person learning.
"It's been okay so far," Clifford-Weiss said, "At first I was nervous about being in person because of how many cases there are and how easy the virus is spread around, but the protocols Holy Cross has put in place has made it work out."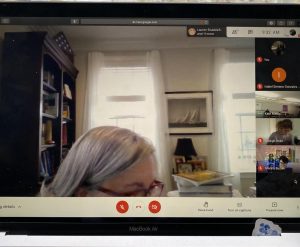 Even though teaching hybrid can be intimidating, with both in-person and virtual students, teachers have also expressed the good things about being back in the building.
"It's been nice to have those classroom moments again," Clifford-Weiss continued.
Some teachers have had to modify what they do in the classroom to accommodate for the hybrid learning plan.
"I used to be a stickler for dates and turning things in on time, but have become less strict this year because of the virus," history teacher Anna Dettbarn explained. "I choose [the student's] mental health over Plessy vs. Ferguson any day," Dettbarn continued.
At times, it can get quiet during virtual classes, especially in the morning when some students are not completely awake yet. So, when students participate in class discussions, it is always welcomed by teachers.
"It is a day of sunshine after weeks of rain when a student talks in class," mentioned Dettbarn with a smile.
Faculty and staff have worked hard to make sure students get every opportunity for activities in on an online and hybrid environment. This means participating in club meetings, going in-person to play sports in a safe environment, and putting on music concerts and plays.
"We're still a school; lively and awesome," said Vice Principal Lindsey Tonks.
"
It is a day of sunshine after weeks of rain when a student talks in class"
— History teacher Anna Dettbarn
Teachers are aware of the challenges that all students are facing.
"[Teachers] are human too; we feel the responsibility and understand the struggle," Dettbarn shared.
The school year has been unusual with many changes, but the community has worked together to make it succeed.
"[Students and teachers] are a team and we depend on each other," Tonks commented.
About the Contributor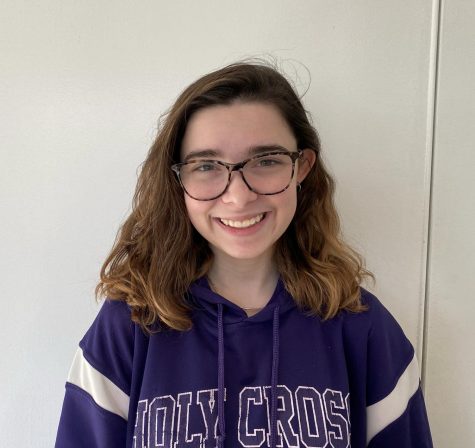 Megan Steele, Reporter
Megan is a junior at the Academy of the Holy Cross, and is excited to begin working on the Tartan Times staff. During her time away from the paper, Megan...