Sustainability in a Pandemic
Throughout the Covid-19 pandemic, people worldwide are making an effort to stay safe and Covid-free. With public safety being the number one priority, there has been less of a focus on the implications of Covid-19 on the environment. With an increase of single-use plastics in items like masks and gloves, it is crucial to address how plastic and other pandemic pollution will affect the environment and our health.
According to an article published by the United States National Library of Medicine National Institutes of Health, there is an increase in plastic pollution and medical waste, which can negatively affect the environment. There is a call to action for the proper use and disposal of the inevitable increase of single-use equipment.
"Plastics have become a severe transboundary threat to natural ecosystems and human health, with studies predicting a twofold increase in the number of plastic debris (including micro and nano-sized plastics) by 2030. However, such predictions will likely be aggravated by the excessive use and consumption of single-use plastics (including personal protective equipment such as masks and gloves) due to the Covid-19 pandemic," explained the scientists. "The increased demand and indiscriminate use of PPE by ordinary citizens quickly became controversial due to the lack of correct handling and disposal…surgical masks and gloves should not be worn longer than a few hours and should be adequately discarded to avoid cross-contamination."
Unfortunately, personal protective equipment is not the only unsustainable byproduct of the pandemic. With containing the spread of Covid-19 being the priority, businesses have had to adapt. As a result, take-away services, like curbside pickup and food delivery, has become more popular. This also means that more plastic packaging that is not recycled accumulates in landfills and adds to the planet's contamination.
"The increased waste production related to PPE soon became accompanied by the increased use and disposal of other single-used-plastics," emphasized authors of the National Center for Biotechnology Information. "For instance, demand for plastics is expected to increase by 40% in packaging and 17% in other applications, including medical uses."
Despite the challenge of being sustainable through the pandemic, LOTAs and the Academy are making a conscious effort to do their part.
On campus, cleaning staff are doing their best to reduce waste attributed to the school's disinfecting routine. According to principal John Sullivan, Holy Cross is trying to keep clean in the most sustainable way possible.
"We have moved to bulk. Anything that comes in plastic we have purchased in bulk quantities," stated Sullivan. "We have also opted for using spray bottles and microfiber cloths to clean, so instead of using so many wipes, we are using clothes that are washable and reusable."
The Academy has also encouraged its staff and students to bring their reusable masks each day. As soon as staff and students were allowed to campus, AHC reusable masks were also distributed. Whether on campus or at home, students and teachers have also been trying to limit their pollution.
Junior Ivy Fernandes shared that she tries to limit her pollution by using a cloth mask and reusable or biodegradable packaging when shopping. Fernandes also recommends that other families could be more sustainable by limiting their consumption of take-out food when they can.
"I use cloth masks a lot, and I prefer them over the one-use disposable masks because I can wash them and use them again," said Fernandes. "My family also cooks dinner every night, so we don't make as much waste from take-out containers. There are also more sustainable options if you can't cook at home every night, like meal kits that deliver their food with recyclable or biodegradable packaging."
Science teacher and science department chair Alison Simon recommended that the best way to be sustainable throughout the pandemic is to get more use of our plastic and learn more about recycling correctly. Simon recommends people to take a closer look at recycling numbers at the bottom of plastic containers. These numbers indicate what the plastic is made of, which later aids recyclers in the sorting process.
"We are buying a lot more of single-use plastic overall, so we need to be aware of the difference between the different types of plastic," Simon explained. "Plastic is not like one thing, plastics are polymers made of many things, and they are basically mixtures. Depending on what's in the mixtures, different things can and can't be recycled."
Simon encourages others to find more uses for plastic, and she emphasizes the phrase "reduce, reuse, and recycle" to be environmentally conscious.
"You can find different uses for your plastic, so reusing containers in your own house is better before you recycle," stresses Simon. "If you can't find a use for it, make sure to recycle and make sure you clean everything so it can get recycled."
About the Contributor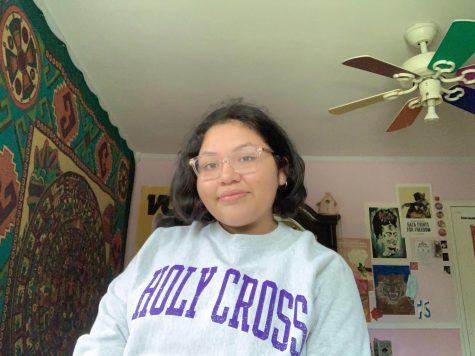 Isabella Rodriguez, Reporter
From the class of 2022, Isabella Rodriguez is excited about her first year in multimedia journalism. Her favorite classes are history and language. She...