Baking and Cooking During Covid-19
The worldwide coronavirus pandemic has caused stress for many students and faculty at Holy Cross, resulting in a desire to find an activity that would be a fun distraction.
One popular distraction among the Holy Cross community was baking and cooking, for themselves and for others. Many students used baking as a way to complete service hours, because they were able to donate baked goods to those who needed them most.
"I made cake for service hours and I have also made cupcakes for my chemistry class because we had a take-home assignment," explained sophomore Eileen Depman.
Baking and cooking for fun has been a great way to relieve stress and has also brought joy as it has allowed them to create their own recipes and design what they would look like.
"I've made a lot of cookies, including pumpkin cookies, chocolate chip cookies, oatmeal raisin cookies, white chocolate chip cookies," sophomore Mary Celeste shared. "I've also made lemon pound cake, cinnamon rolls, brownies, and cookie pie."
Students have enjoyed having more free time to bake because of the pandemic, and the faculty have as well.
"We have tried so many new recipes. I've spent time researching. I also started making shrimp enchiladas," Global Civilizations teacher Liz Baldacci added. "I have experimented with new styles and new kinds of food."
Due to the rapid restaurant closures, students and faculty have enjoyed the opportunity to bake and cook during these challenging times. Several students explained that it has relieved stress and brought excitement in their kitchens.
"I think so because you get to bake it, which takes time. This allows you to do something when you are bored," Celeste shared. "It's also a great distraction."
Some students were not used to baking frequently but once the pandemic began they realized how much fun it was.
"I actually really liked baking because it's fun to do sometimes," continued Depman.
Although this year has not been easy, LOTAs and teachers are finding ways to cope with their difficulties by cooking and baking, which has been a benefit to the Holy Cross community.
About the Contributor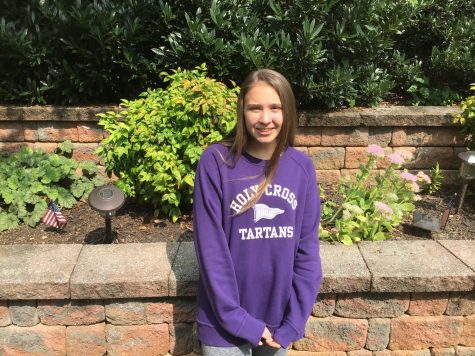 Christina Young, Reporter
Tina Young, class of 2023, is a sophomore at the Academy of the Holy Cross and is excited to write for the Tartan Times. She played for the freshman soccer...