Solidarity is the Solution
The Academy has always prided itself on providing a community measure of "courage, compassion, and scholarship," which is no different during a global pandemic. During the epidemic, the Holy Cross women have become leaders who have embraced the new challenges of this difficult time by providing for the community's common good.
From September 28 to October 2, Holy Cross hosted The "Back to Basics" donation drive to help families in need in Montgomery County. By collecting donations such as hygiene products, the school community provided families with access to personal care products that are difficult to get. Inspired by the solidarity and compassion of Margaret Rodgers Norris '83, after she responded to the challenge to provide food for her students and other families in need, Holy Cross partnered with the alum and joined in the effort to care for the community.
Discussing what more people could do to help, Noris explained education is the best way.
"People need to educate themselves," said Norris in a CNN interview. "People need to know and realize that you can do small things."
In such a difficult time, with the loss of jobs, it has been more challenging for families to access their fundamental necessities. Emily Teter, Director of Holy Cross Social Justice and an organizer of the donation drive, explained that it is critical to provide for the community so they do not need to choose between two vital necessities, food and hygiene products.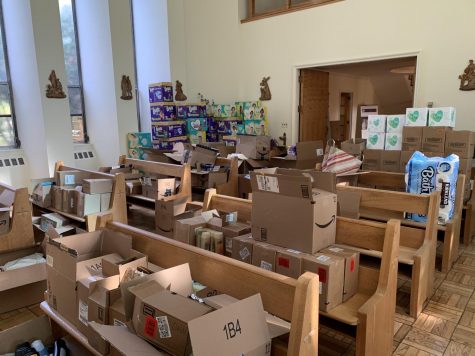 "The pandemic has caused more people to lose jobs, more than any time in history," Teter explained. "We don't want people to choose between having their basic needs met."
Explaining why it is so important to donate, and more specifically, why donate hygiene products, Teter emphasized the value of human dignity. She shared that all humans are worthy of feeling content, and staying clean is a fundamental right that is deserved.
"The hygiene product distribution was our response to the pandemic," Teter shared. " We can positively impact people because we are upholding their dignity."
Despite the difficult circumstances of a pandemic, the outreach of the Holy Cross community was remarkable. Organizers were inspired by how much the LOTAs donate, and the response of the community demonstrated unity and solidarity.
"It shows the type of community we have, a community of compassion," Teter said proudly. "We saw it was important to give back to those who had so much taken from them, and we responded."
Ultimately, the response from LOTAs was a mirrored act from the work that Jesus did for the poor. Teter explained how important it is to care for others as if they were family.
"The reason we want people to care is because we are our brothers and sister's keeper," emphasized Teter. "When a part of the body of Christ is hurting, we get together to heal that part."
Similarly to the point that Norris made, The Academy saw it was necessary to highlight solitary in the works of service. As a result, the Holy Cross community made sure to donate the best of what they had.
With the Back to Basics donation drive, students donated more than ever. Knowing the situation that many families were in due to the pandemic, junior Hannah Cameron knew she wanted to help.
"I donated because there was a list full of essential items that I know a lot of people don't have access to," Cameron shared. " These were items that I could easily buy or have, and I knew it was for an important cause."
Responding to, "Why is it important for students to donate," students explained that if they could not get the hygiene items they used daily, they would want others to reach out. Any small donation can make a difference in a person's life.
"These were items that everybody uses daily, and basic hygiene is incredibly necessary to improve the quality of life," Cameron said. "I trust that someone will put my donation into good use."
About the Contributor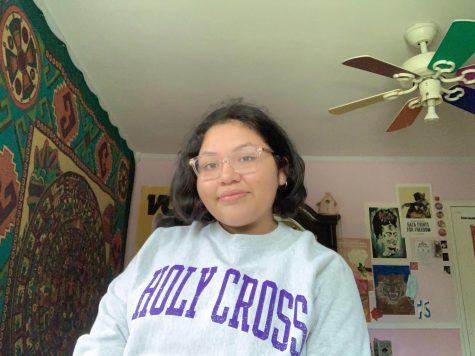 Isabella Rodriguez, Reporter
From the class of 2022, Isabella Rodriguez is excited about her first year in multimedia journalism. Her favorite classes are history and language. She...