How to Excel in the 2020 School Year
LOTAs face many assessments, whether it is a test or a quiz. Being proactive is a necessity in doing well on these assessments, and with some advice from teachers and peers, students will be well prepared and ready to excel.
Now that the first quarter has ended, students have the chance to start over. Studying habits are important because they the offer skills that are necessary to do well in the future.
"Thinking about problems and solutions is good for our brain. If we never use our critical thinking skills, our brains will not function at their best," counselor Julie Ritter shared.
Ritter also discussed the importance of completing assignments to keep students productive.
"When we have control over our time and belongings, we feel more calm. Having concrete tasks to accomplish each day results in productivity, and we feel better when we have a feeling of accomplishment."
In addition to studying, a positive mindset is key. Students may find it harder to have confidence in their abilities to succeed without a positive attitude.
"Optimism is contagious so sometimes we have to help others visualize a positive outcome from every scenario before even starting," explained Ritter. "It's important to plan goals, and to think about how it will feel when you accomplish that goal. Think about the reward."
Students have found a variety of ways to work for success when they prepare for tests and quizzes that come up each week.
"I started using more highlighters and started color coding my notes, and I guess I've started making more Quizlets," sophomore Carly Stocks explained.
Students are taking advantage of their resources at home while attending school in a virtual and hybrid environment.
"I've started writing down a lot more notes and going over them after class. I've also been watching the recordings teacher's do of the class to make sure I don't miss anything," sophomore Katie Celeste added. "I feel that I learn better on paper and like writing it down to comprehend it."
Studying ahead is one of the most important tips that will affect the result of the test or quiz grade. Knowing when the test or quiz is, and making a study schedule will benefit students.
"It's important to study ahead because if I cram and study the day before I become more stressed," Stocks said. d stress free school year.
The counselors have found that students who follow these suggestions have a more enjoyable and less-stressful school year.
"Encouraging healthy thoughts and habits is crucial if we are trying to create and live in a positive environment," Ritter expressed. "My hope is that students can reflect on where they are as a student, and really think about what they need in the moment."
About the Contributor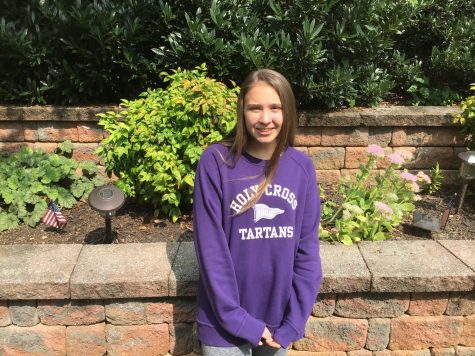 Christina Young, Reporter
Tina Young, class of 2023, is a sophomore at the Academy of the Holy Cross and is excited to write for the Tartan Times. She played for the freshman soccer...