Online Learning: Teacher's Edition
The Holy Cross faculty have overcome the obstacles of teaching online, to create the current learning environment. Since March, due to the coronavirus closings, teachers quickly adapt to online education.
Switching to online learning has been stressful for teachers and students. In the change, teachers found online resources to be very helpful. Science teacher Ashley Gardner expressed that teaching biology, where labs are crucial to learning was a challenge she has had to overcome.
"I obviously would prefer to be teaching in person because we are a lab-based class," Gardner said. "Having student interaction allows for students to be more engaged."
Teachers noticed that there have also been positive aspects with online learning. Latin teacher Rachel Mullervy noticed that quieter students speak up more often, participate in class and are more involved.
"I definitely noticed that students feel more comfortable because they are in the comfort of their own home," Mullervy explained.
When it comes to adapting to a virtual environment, the teachers seem to be confident in their online teaching abilities. Different online programs like "Notability, Flipgrid and Gizmos have been very helpful," Gardner shared.
Online learning can be challenging for teachers.  However, they spent much of the summer preparing for school starting remotely.
"I personally have adjusted to virtual learning and I would not have a huge learning curve if we stayed online for the rest of the year," says theology teacher Erica Mullikin.
While there are positive aspects, many teachers expressed their concerns about how students are adjusting, as well as distractions. Many worried about new students making new friends online, and meeting new people. 
"I would spend some time trying to figure out how to keep the girls engaged with each other,"  Mullikin expressed and now has suggestions on how to help students overcome this disadvantage.
All LOTAs and teachers eagerly want to go back to school. Not being able to build relationships between teachers and students is a problem with online learning.
 "My teaching technique relies very heavily on building a relationship with each and every student, and not being able to see how they are in person is a very big struggle," Mullikin described.
About the Writer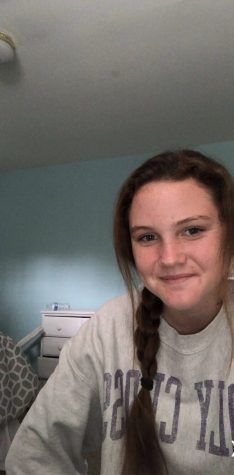 Jessie Olcott, Reporter
Jessie Olcott is in the class of 2024 and excited to start a new school. She is trying out for the soccer team, in hopes of making varsity and is...