How Did LOTA's Choose Holy Cross?
Every year, Holy Cross receives many applications from students interested in the school.
Since the Sisters of the Holy Cross founded the school in 1868, it has served as a great learning space for girlsand is filled with empowerment inside and outside the school. The wide range of classes makes the school appealing to applicants. 
"I really enjoy the all-girls environment," senior Christine Welton said. "I think it's a great place to learn without distractions and I really like the amount of STEM classes Holy Cross has."
Many students name the great community of the school as a benefit for attending. Holy Cross students are there for one another helping when someone needs help or has questions.
"We also have a great community here," Welton described. "Being all girls keeps us really close together and we all respect one another."

Holy Cross offers many clubs, sports teams, and extra curricular activities that all students are invited to participate in, and are attractive to potential students. 
"I've had a lot of different leadership roles in clubs or sports teams since I've been here," Welton continued.
During these unprecedented times, Jordyn Brock, a member of the admissions team, has encouraged many families to choose Holy Cross for their daughters over other Catholic schools in the area.
"Everyone's so sweet that it's almost like, why would I not want to come here," Brock explained.
Because Holy Cross is an all-girls private school, it is very different from other schools. 
"Everyone comes together. I think that makes us stand apart. I think were the best all-girls school," Brock added.
As a member of admissions team Brock is able to impact students' lives as they enter into the school as an incoming freshman or transfer student. She enjoys being able to help new students.
"Holy Cross has allowed me to become a lot more personal, especially as I'm getting older," Brock continued. "I think its allowed me to learn how to speak with people with different backgrounds, and cater to their needs."

As an incoming freshman, entering into high school is not always easy. But for many incoming freshman, the experience is exciting.
"I felt really welcome and even in this situation everyone's been very nice," freshman Christina Arygros shared.
As students graduate from Holy Cross they often come back and visit, knowing that their experience here was life-changing. They love seeing old friends or visiting teachers. 
"It's like a second family to everyone," Brock expressed, who also attended Holy Cross for high school.

LOTAs enjoy their time at Holy Cross and know that the students that they meet on the first day of school will be the same people that they contact in years. 
"Holy Cross has given me the friends that I'm sure I'll have for the rest of my life," Welton explained. 
About the Contributor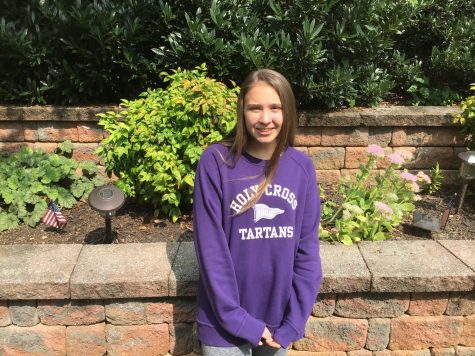 Christina Young, Reporter
Tina Young, class of 2023, is a sophomore at the Academy of the Holy Cross and is excited to write for the Tartan Times. She played for the freshman soccer...