A New Way of Testing
The closure of schools due to coronavirus has affected more than what was originally expected. One of the results of the closure was the new format of testing for the Advanced Placement (AP) exams, which are running from May 11 to May 22.
College Board, which administers the tests, made the decision to eliminate the multiple-choice and some longer response format this year. The new format is open book, open notes, and online testing from home. Different students and teachers have found new, different ways to prepare for the new tests.
Sophomore Nicole Ionata says that despite the changes, her nerves for the test feel the same as before. She has prepared for her test by watching videos that have been assigned by her teacher and going over her notes. Although she didn't necessarily have a preference for where and how she took it, she did admit she would choose her house over large groups because it is quieter and less of a distraction.
"I have mostly been watching the videos that have been assigned to me by my teacher and looking over my notes. I think it will be enough because the videos helped to break down the importance of each unit," Ionata explained her studying method.
Junior Kiyo Kariya is somewhat on the same page as Ionata in terms of studying; her preparation was not as intense because there were no longer any multiple choice questions. However, Kariya is on the opposite side when it comes to which testing location she prefers. She stated that she would rather have the old way of testing because at home she felt very distracted. However, she seemed confident in her readiness to take the test. Her teachers have told her the units to study, reminded her of their confidence in her, and provided her with some study guides.
"I would prefer the old way because while taking my exam I felt that I was very distracted by everything around me, but in a regular test setting, I am focused on writing my answers in time," commented Kariya.
The new testing format led History and Social Studies teacher Anna Dettbarn to spread her time evenly over the units she needed to cover for her AP classes. Only a specific number of units were to be involved in each AP test. Dettbarn believes that the online testing format will prove to be harder for students because they will put too much faith in the help of and access to the internet. She also believes that the clock on the screen will invoke anxiety in students. However, she thinks that the College Board has done a very good job to provide a fair test for students.
"The College Board has gone to extreme lengths to provide access to all students. They have distributed computers and provided internet connectivity. They provided online review opportunities for the students who wanted to keep working and learning," added Dettbarn.
About the Writer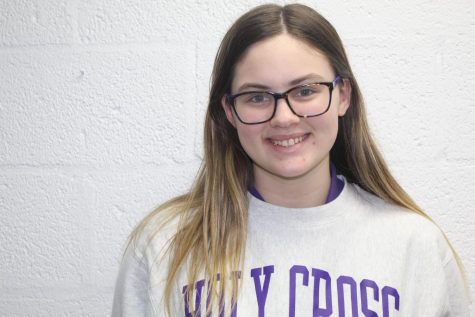 Nora Pottker, Reporter
Nora Pottker, class of 2022, is excited to be a part of the Tartan Times and Multimedia Journalism class. She is in her sophomore year at Holy Cross and...