Staying Entertained During Coronacation
Many students and members of the AHC community may be finding it difficult to stay entertained during the nationwide quarantine, but there are many ways to battle boredom during these uncertain times. Students and faculty are finding new ways to spend time with hobbies, exercise, and communicating with friends or family.
Junior Claire Stocks has found that taking up a new hobby is a good way to take up time. Stocks believes hobbies are a great way to spend quarantine because they are productive and fun. She has started to bake and recommends other students do the same because of its stress-relieving qualities.
"I love to bake! I especially love baking cookies and brownies. Baking just helps me relax and relieve stress", Stocks explained. "I think everyone who is looking to try something new should start baking." She finds baking to be fun, especially with her sister Carly.
English teacher Virginia Clifford-Weiss has been kept very busy during quarantine with teaching and taking care of her baby daughter, Maeve. Between lesson plans, grading, teaching virtual classes, and caring for Maeve, she has also been watching her favorite show "Gilmore Girls," reading, and knitting.
"I have been knitting a bit…finished a baby blanket for my friend Sydney and am working on a scarf for my mother-in-law now," stated Clifford-Weiss. "I finished re-reading a novel called Four Souls by Louise Erdrich and am in Michelle Obama's Becoming now."
Sophomore Stella Dragger has been taking walks, reading, going on bike rides, listening to music and binging Netflix. Social media and other entertainment platforms, like Netflix, are another popular way to stay entertained. She suggests other students take up a new hobby to stay entertained like painting. She has found quarantine challenging in terms of not seeing her friends.
"It has been hard not being able to see my friends in person. Seeing them virtually is not the same," Dragger said.
About the Contributor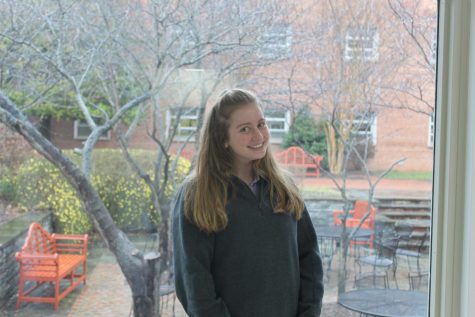 Molly May, Reporter
Molly May, class of 2021, is excited to be writing for the Tartan Times. She is a member of the Bake for Hope Club and Young Progressives Club, as well...