Online Chapel
The pandemic has not stopped the Holy Cross community from keeping their faith alive by participating in online chapel activities during the school days. Faculty and students come together in a Google Meet in the morning or during lunch to take part in the various activities.
Regular participants at school, like sophomore Caroline Killian, had a desire to keep the activities going once remote classes began.
"I didn't really want it to stop just because we weren't going to be together," expressed Killian. "I just thought well if we're doing online classes, why can't we just do online chapel?"
With the participation of students, peer ministry, and campus ministry, it has been possible.
"At first we were just putting something out there through social media and the Bagpipe to provide people with something they might want to do mid-day," said Linda Ruszkowksi, Director of Campus Ministry. "Now that spring break is over, we are actually going live and doing live events."
Morning chapel is very similar to the regular experience but some lunchtime activities have been changed slightly.
"The cool thing about this experience for the peer ministers as well as everyone involved with campus ministry is that it has been changing every step of the way," explained Ruszkowski.
The lunch activities vary by day. Monday is reserved for meditation where it is guided by the adults or peer ministers. Tuesday is praise and worship where students are able to share their favorite music and even perform live. Wednesday is a flex-day where peer ministers lead an activity of their choosing. Lastly, Thursday is a bible study where they focus on the gospel of the day.
Aside from the student-led activities, the faculty have an opportunity to gather with each other.
"We have some adults from Holy Cross who have gathered from time to time to have adult faith sharing groups and a chance to talk about our faith together," revealed Ruszkowski.
The continuation of the chapel activities onto a virtual platform have had a positive impact on those who have participated.
"I think that chapel has definitely impacted me for the better during these times because I just know that it would be a lot harder without setting aside that time everyday to sort of talk to God and meditate, and just have that time where everything is peaceful and you don't have to worry about what's happening on the news," shared Killian.
During these times, it has served as a positive distraction to the participants.
"I like to do these chapel activities and go to chapel because it makes me feel good and somewhat forget that we are in this situation," said senior Shelby Wilson.
Not only has it affected the students, it has impacted the adults in a similar way.
"Starting the day with online chapel really sets the right tone to be able to see the beautiful faces of the other members of the community," expressed Ruszkowski. "The mid-day break is a great chance to step back from all the work and recenter ourselves and to start the rest of the day with that chance to check in with the community and to remember that God is always with us."
Aside from the chapel activities, students are able to participate in a different way such as submitting prayer intentions for the peer ministers to pray for.
"Peer ministry is finding different ways to connect spiritually with different members of the community," revealed Wilson.
All information is distributed to the community through the Daily Bagpipe or on the peer ministry's Instagram page.
"I think that community is such an important part of Holy Cross," shared Ruszkowksi.
She encourages everyone to join these activities at any time. They take place over Google Meet with the codes "online chapel" in the morning and "lunchtime chapel" during lunch.
"It's really exciting and important that we still gather to flex our faith and to be family with one another in a chapel style activity even if it has to be virtually," said Ruszkowksi.
About the Writer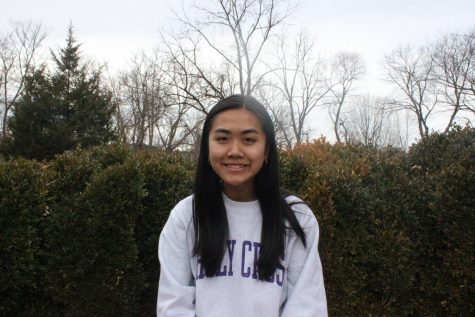 Rosemary Sui, Reporter
Rosemary Sui, class of 2021, is excited to be a part of the staff for Tartan Times. At the Academy, she is a member of the Science Club and the Young Tartans...