May the Force Be With the Robotics Team
The AHC Transformers (Team 6584), Holy Cross's robotics team participated in the FIRST Robotics Competition hosted at Walt Whitman High School on March 7.
This was their first competition of the season. The team prepped the entire year during any spare time so that they can have a robot ready to participate in the competitions. During their daily meetings, the students learn how to build, program, and drive the robot to compete in regional events in the mid-Atlantic region.
In addition to working with the robot, students are also given the opportunity to learn how to write grants, obtain corporate scholarships, and manage the team funding. There is a safety team responsible for maintaining safety during build season and in the pit at the event. The imagery team worked to create a booth and drive team costumes that matched the competition theme.
The Robotics Team at Holy Cross is one of the few all-girls teams in the area.
"Working with an all-girls team is such a blessing," said CEO Christine Welton. "I love just being able to make a difference in the STEM community. I think we're the only all-girls team that I've seen so far."
Everyone on the team seems to love the all girls environment because of how well they work together and how empowering it is.
"It's a very collaborative environment—a very supportive and creative experience," remarked moderator David Geiser.
Because they are a small team, they were able to develop good relationships to be able to work well and effectively together.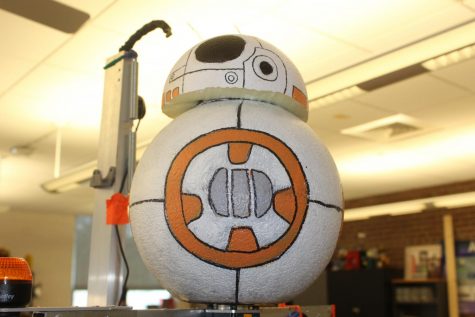 "My favorite part about being on this team is how friendly everyone is, it makes every problem we have to solve easier and more fun to overcome," revealed junior Lynn Clough. "I love everyone on the team and how creative they are and how they bring different approaches to problems that I never could have thought of."
Being a small team comes with its benefits. They are able to learn a lot of new different skills from every field from the build team to the business team.
"I've learned so much. It's unbelievable how little I knew before going into this and how much I know right now—how much I'd be able to tell you," shared Welton.
Although a small team has its benefits, it also comes with some hardships. The team members continuously tried to recruit new members throughout their season.
"The hardest part of the season for me was trying to get more people to come to robotics. It's hard to work on a robot with only a few people coming every week, but as the season went on it got easier as we had more people participating and growing our robotics family," said Clough.
With a completed robot, the team participated at their first competition. The competitions are filled with high levels of energy and pressure but it is also a fun event and a great opportunity to meet other teams and people who are passionate about robotics.
"It's a fairly intense two day period but I think that FIRST has done a great job of the structure of it as such that you are always playing with a new alliance so you are always playing with two new schools every single match," explained Geiser.
The team performed well and described it as a good experience. They even won the Imagery Award for their outstanding visual aesthetic integration of machine and team appearance.
Unfortunately, because of the closures due to the coronavirus, the team's second tournament was cancelled. They are hoping that there will be a make-up date in the future.
They are always looking for and welcoming new members.
"Students think it's only for the 'smart girls' or the 'nerds' but really anybody can do it," encouraged Geiser.
About the Contributor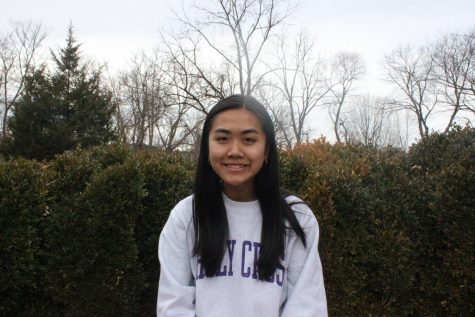 Rosemary Sui, Reporter
Rosemary Sui, class of 2021, is excited to be a part of the staff for Tartan Times. At the Academy, she is a member of the Science Club and the Young Tartans...