What Exactly Is the Madeleva Scholars Program?
As the freshmen are approaching the middle of the second semester, they may be thinking of applying for the Madeleva Scholars program, one of the three scholars programs at the Academy.
In order to be a Madeleva scholar, the students must meet the expectations of the program—academics, service, leadership, athletics/activities, and enrichment.
"It really focuses on making sure students are well rounded in a variety of ways so it's not strictly academic based; it's not strictly service based," explained Megan Minogue, English teacher and Madeleva Scholars Coordinator. "It's not strictly based on the school community. It's all of those different things."
The expectations for scholars include maintaining a 3.0 grade point average while completing at least one honors-level course during her time at the Academy. In addition, students are expected to assume leadership positions and participate in extracurricular activities. An additional forty hours of service above the general AHC requirement are expected as well. Students are able to explore other categories of service with the program.
"I was able to look into opportunities that were not available to me before because the social justice hour requirements," revealed senior Caitlin Bendit.
Junior Kyra King has been able to balance the requirements that come with this program. She was even able to finish her hours easily. "The requirements are fair—not too restrictive," expressed King.
Students engage in an enrichment activity in the summers following freshman and sophomore year. This leads up to a research paper on a topic of the student's own choosing which is started during the spring of her junior year.
"Writing an additional research paper seems like a lot of work, but it's just one more opportunity to continue to practice the skills the Holy Cross has taught us," shared Bendit about her experience completing the research paper.
Being a part of this program comes with advantages for students who complete the three year program.
"It is kind of geared towards making students much more well rounded but I think really the main advantage just comes with the research paper and the different summer activities and enrichment programs that the students take on," said Minogue.
The research paper is a significant part of this program that allows the students to branch out.
"It allows you to have a way to explore things that you're interested in that you don't necessarily get to touch on in the classroom," explained Minogue.
It is a new experience for many of the students who may have never written a fully documented research paper over a long period of time with the help of mentors.
"I think it was really fun to learn about a topic of my choice but it was a new experience handling such an independent project," exclaimed Bendit.
Being organized and working consistently is key to completing this paper well and stress free.
"Have a game plan for your paper and create a very complete outline so there will be no fun surprises along the way," advised Bendit.
Minogue, as well as current scholars, encourage the current freshman who are considering applying for this program.
"It was a learning experience in many ways and I will look back on this project as having taught me many things about myself as a student," Bendit remarked.
About the Contributor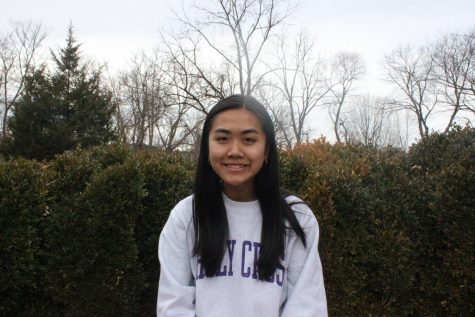 Rosemary Sui, Reporter
Rosemary Sui, class of 2021, is excited to be a part of the staff for Tartan Times. At the Academy, she is a member of the Science Club and the Young Tartans...