Immaculee Ilibagiza and Her Story of Survival
Immaculée Ilibagiza, survivor of the Rwandan genocide and later a New York Times best seller, captivated the student body of Holy Cross when she came to visit on February 13 and gave an emotional speech about her journey in her faith.
Ilibagiza spoke about her experience living through the Rwandan genocide, in which members of the Hutu tribe hunted and slaughtered hundreds of thousands of members of the Tutsi tribe. Throughout this despair, she discovered her faith and created a lifelong relationship with God.
"My greatest takeaway was the message of God, the message that heals, how simple it is. It's not something too extraordinary," she described.
Ilibagiza hid for 91 days with seven other women in a 3'x4' bathroom, with little to eat and little to do. She occupied her mind with prayer and reflection on the message of God.
"It is enough to love. The pain of war, that even now the country is going through – all that could be changed by loving one another. Imagine how important that is," shared Ilibagiza.
Junior Evie Barnes expressed her interest in learning more about Ilibagiza's experience.
"If I could speak with her and just ask her one more question, I would ask what her greatest takeaway out of all the things she learned and experienced was. How did her time in the bathroom really change her?" Barnes wondered.
Junior class Vice President Eileen McConville shared the impact Ilibagiza's speech left on many of the students and faculty at the event.
"The words that had the biggest impact on me were Immaculée saying that she hopes she can share her story to help us navigate through our problems," McConville shared. "It really helped me realize that all of my problems amount to nothing in comparison to what she has gone through in her life."
Ilibagiza spoke of her struggle with forgiveness and her road to finding it in her heart to forgive those who wronged her and her tribe.
"If you love, you forgive. If you trust in God, you forgive. I realize how little my strengths are, but if I trust in God, then I know something good will happen," Ilibagiza described.
Students and faculty were given Ilibagiza's book Left To Tell before Christmas. Students discussed her book in religion in the weeks leading up to the assembly to prepare for Ilibagiza's visit. Afterwards, they reflected on the important parts of her book and her speech.
"When she discussed her family definitely. You could really see how much she loved her family and how close they were. It made even more inspirational that she's managed to stay so positive in her life," stated McConville.
About the Contributor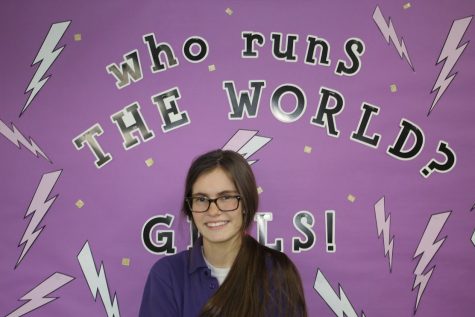 Elizabeth Clarke, Reporter
Lizzy Clarke is a junior at Holy Cross and is very excited about this semester in journalism. She likes English and spending time with friends. She is...