AHC AP Classes
As Tartans look to begin college with college credits, they have a variety of AP courses to select from. AP classes mean Advanced Placement and are intended for students looking for a rigorous course in individual subject areas. All AP courses have a nationally administered summative exam in May for the content for the entire AP course.
AP classes are most common for upperclassmen because there are more options available for specific interests. AP Coordinator Kit Matthews provided that 175 LOTAs take AP classes. There are 38 classes in the AP program, and Holy Cross offers 12 of them. In addition to the 12 classes offered, Holy Cross offers four other AP exams for different subjects.
Sophomore Ella Fernandez, who took her first AP class this year, said, "Quizzes in AP are very different from other classes and require a lot more deep thinking. These classes are a lot of reading and notes and it takes about an hour and a half for homework every night." She also suggested, "Don't fall behind, and always read and take notes."
AP classes help prepare students for college courses and sharpen their writing and thinking skills through the rigor of the course. AP classes can add up to 0.7 on the weighted GPA scale at Holy Cross. All HC students who take an AP class are required to complete the exam, and will not be granted weighted AP credit on their transcript if they do not.
Dr. Morris, who teaches social studies AP classes, explained, "AP classes involve a greater level of rigor than other classes–more reading and more writing. I think some of the students who take AP classes do so for the challenge of the additional workload associated with a college-level course."
Morris recommended for LOTAs considering an AP class, "To be sure they really understand the level of commitment required to be take on a college-level course."
AP classes are not required, but do look good on college applications as well as help students prepare for the college workload. Additionally, although not guaranteed, AP classes can help students earn college credit typically by scoring a 4 or 5 on the AP exam.
Senior Lauren Kosiorowski has taken multiple AP classes at Holy Cross. She noted, "I would say the work is a lot at first but once you get used to it it's a manageable amount and it is what you would expect for an AP class. AP classes are a lot harder than honors or on level and you really have to apply yourself and pay attention in class."
Kosiorowski recommended advice for other AP students, "Don't save the work for last minute and stay on top of things."
AP students generally go through the most stress, but in the long run it better prepares students for college and it is worth it if students are willing to work hard at enhancing their skills.
Morris encouraged, "I would advise AP students to enjoy the challenge of the advanced rigor and try to learn as much as possible."
About the Contributor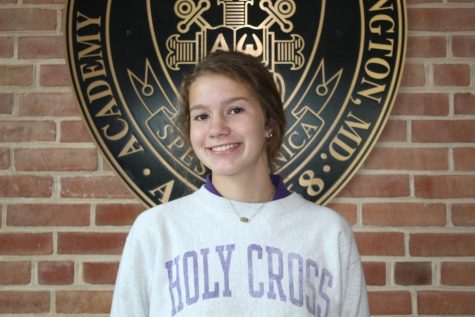 Maddie Akers, Reporter
Maddie Akers, from the class of 2022, plays soccer, basketball, and lacrosse. She is a member of the Pro-Life club, Booster club, and Support the Troops....