Learning Worldwide
Education is a valuable gift given to a child. Holy Cross makes sure that every student who comes into the school leaves with knowledge that can be used for the rest on her life. The school offers the opportunity for an education to students from across the world, including students from other countries and the Cambridge Program coming to Holy Cross.
College counselor Kelly Tarini explained this outreach, "Provides an education to girls all over the world who don't get an education like we have here [Holy Cross]."
Holy Cross's community is very inviting to the international students and would welcome more to come to Holy Cross. The school website has a page for the international students with information of where they have come from and how excited the school is about their potential.
Jordyn Brock, Assistant Admissions Counselor, said, "There are four to five students that come each year." She explained, "They usually stay with a host family."
The school community is inviting, helping the international LOTAs with their studies, teaching them new things, and making new friends.
Sophomore Nana Owusu, a student from Ghana, explained, "Here they teach children their capabilities, give good exposure, and a good education."
Owusu's sister came to Holy Cross in her junior and senior years, and graduated last year. The experience her sister had helped Owusu decide to come to Holy Cross as well. She admitted that her mom was the reason she came here, but that she enjoys the school. Her experience at AHC first few months have been harder than she expected.
Owusu explained that in at Holy Cross, "I talk about things I didn't know about." Owusu also believes that there are more things to do here, giving her a different experience here other than her school back in Ghana.
Sophomore Ruitong Liu is a student with the Cambridge School Program studying at Holy Cross.
Liu explained that her mom also wanted her to come to Holy Cross and that her aunt lives in the U.S, which made it easier for her to attend. Liu acknowledged that her school in Singapore is, "Part of an American school system making the transition bit easier."
Liu noted some differences she has experienced between the two countries. Liu takes the metro everyday, "The metro here [the U.S] is different than it is in Singapore." She also noted, "Here you don't celebrate Chinese New Year," a difference that is very noticeable to her.
Liu knows school is stressful and responds in a way common with American students, "I play video games to release my stress."
"Being in a new school and in a new country in scary," Liu shared, but she wants to, continue with college in the U.S because she has had such a great experience here already.
About the Contributors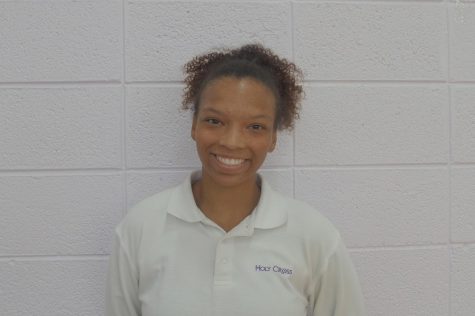 Cheyenne DeGross, Reporter
Cheyenne DeGross is starting her first year for the Tartan Times. She is a member of the class of 2022 at the Academy as well as a three sport athlete....