Showdown at "That School" in Olney
The most exciting volleyball game of the year for the LOTAs happened on September 9 at "That School" in Olney.
The AHC volleyball team has been a powerhouse, winning six consecutive Washington Catholic Athletic Conference (WCAC) championships from 2011-2017. Good Counsel volleyball has always been a close second, and the matches between the teams have always been among their toughest matches.
Good Counsel has been AHC's rival for a long time which makes the Holy Cross vs. Good Counsel volleyball game the most looked-forward-to game of the year.
The theme of the game was pink out, and the LOTAs went all out. The Booster Club, led by seniors Carleigh Armstrong and Zoe Gerohristodoulos, came ready to cheer on the team.
The game started off with an exciting first set. It was one of the closest sets yet, the lead never more than 2 points.
The cheering match was intense. Both school's student sections took turns screaming a cheer as loud as they could, to try to out-cheer the other. The atmosphere was electric.
"We definitely looked crazy because of how loud we were cheering, but none of us cared," senior booster leader Annie Malouf explained. She continued, "The Good Counsel student section was two times bigger than ours and we were still louder. It was so fun!"

After winning the first two sets, the Tartans were on a roll, and playing confidently. However, the arrival of the entire GC football team crossing the gym and climbing onto the bleachers behind the Tartans Booster Club was disrupting to the Holy Cross players and fans.
"The football players coming in and cheering super loud definitely got in our heads," senior Ale Serrano explained.
Fortunately for Holy Cross, the football team left after the third set, and the LOTAs' heads were back in the game. The fourth set was a blow-out win by 10 points.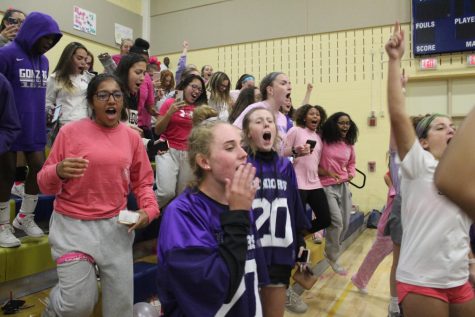 As soon as AHC scored the 25th point of the fourth set, the student section stormed the court. All the girls smiled as they surrounded the team and belted the Alma Mater as loud as they could. "Spes Unica" echoed throughout the Good Counsel gym.
It was a great game, with an exciting atmosphere. "It was one of the most fun games I've played in, and I can't wait to play them again in the playoffs," Serrano said.
About the Writer
Sasha Carmona, Reporter
Sasha Carmona is in the class of 2020 at Holy Cross. She plays volleyball, and loves playing with her dog Dash, who happens to be her best friend. She's...