Transitioning Tartans
As the class of 2020 excitedly faces their final year of high school LOTAs are anxiously completing college applications. There are some tips for the seniors that will ease this process, and for the juniors and underclassmen, it is never too early to start understanding the ways the Academy prepares students for this exciting step.
As a college preparatory school, Holy Cross provides the tools and support for graduates to succeed in college. Junior year, students meet with college counselors and talk about goals for college and where students want to go. Holy Cross assigns one of two college counselors to help students make these decisions and can be an advocate to help students get to where they want to be.
Senior Lauren Kosiorowski explained, "You have a meeting with them and your parents and your counselor helps you decide which colleges you're going to apply to and deadlines." She continued, "They are very helpful with that and I know a lot of other schools don't have college counselors that are as good as ours."
Meighan Avalos, college counselor at Holy Cross, is committed to helping students reach their goals and advised, "Don't be scared to go to your college counselor, that is what we're here for, and the more we know about what you're choosing or torn about, the better that we can serve you."
Abby Akers, class of 2019, shared, "My college counselor was such a big help and I love her for that!"
"Become best friends with your college counselors," is Avalos' best advice, along with going to Application Academy.
Held during August before senior year, this hands-on workshop allows rising seniors to work through the Common Application used by many colleges and gives them a jump on essay writing.
Senior Hadleigh Locraft attended this past summer and described the program, "We have Application Academy where we meet with representatives from colleges across the U.S. and they help us fill out college app, write our essays and fill out our resumes. Hopefully we have everything done before the beginning of the year."
Avalos confirmed, "Application Academy is one of the most beneficial events because it forces you to do a lot of the things that are harder to do on your own with the help of two college counselors and almost 15 other reps with different perspectives."
Akers noted on the transition from high school to college that, "Holy Cross helped me learn independence and how to make friends. College is a lot of work and you have to put in more time studying. The hard classes helped prepare me for the very difficult classes in college."
She also shared some encouraging words, "I know it's hard not to stress over college and your future, but just trust that you'll end up where you're supposed to. Holy Cross is a huge help and makes the transition easier and a lot less stressful."
About the Contributor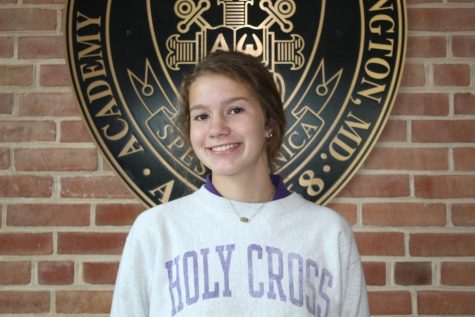 Maddie Akers, Reporter
Maddie Akers, from the class of 2022, plays soccer, basketball, and lacrosse. She is a member of the Pro-Life club, Booster club, and Support the Troops....