Bishop Gregory Joins in on Holy Cross Day Festivities
Through the purple and white of Holy Cross Day rose the red of the new archbishop's robes.
Holy Cross invited newly appointed Archbishop Wilton Gregory to be the celebrant for Mass at Holy Cross in an act of welcoming him to the archdiocese. Out of sheer coincidence, the archbishop's visit was scheduled on the same day as Holy Cross Day. This special day is a long-standing tradition that celebrates the feast of the Holy Cross on September 14 and is celebrated in the school community, with students dressing in purple or white and competing in games.
Archbishop Wilton Gregory was selected by Pope Francis to become lead the Archdiocese of Washington in April. He was installed on May 21 as the seventh archbishop of the archdiocese. Archbishop Gregory had previously been archbishop to the Archdiocese of Atlanta.
To celebrate the feast day and the archbishop's arrival, Holy Cross also invited VIP guests such as the Sisters of the Holy Cross; the Rev. James R. Van Dyke, president of Georgetown Prep; and members of the Academy's Board of Trustees; as well as parents and alumnae.
The week before the visit, LOTAs prepared for the archbishop by creating a spiritual bouquet. Students offered to say decades of the rosary, go to Mass in the chapel, and say their own prayers for Archbishop Gregory.
Tartans were excitedly planning for the visit. Caroline Killan, a sophomore, said, "I will be sure to be in perfect uniform, and other than that I'll still go to chapel, just like any other day."
The school also hosted a dress-down day where each student brought $2 for hurricane relief in the Bahamas. The money the students raised was donated in the archbishop's honor. Both the spiritual bouquet and donations were given to the newly installed archbishop during the Holy Cross Day Mass.
During Mass, the archbishop gave a homily about Jesus being the greatest love letter, adding that love should not be quantified.
Gregory remarked of his experience at Holy Cross, "It was a good opportunity to meet the wonderful ladies at the Academy and see the wonderful institution that is Holy Cross."
He also expressed how he hopes that his visit will encourage girls to go to Mass, in addition to knowing more about Blessed Basil Moreau, who was beatified on Holy Cross Day in 2007.
Students and faculty were grateful for the bishop's visit and hopes he returns to the school soon.
About the Contributors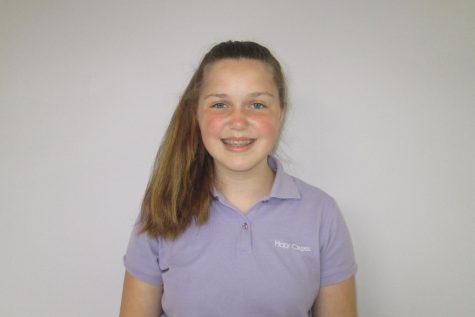 Charlotte Covell, Reporter
From the class of 2022, Charlotte Covell is exited about being apart of the Tartan Times staff for the fall semester. She is now entering her second season...