Goodbye Ms. Dean…
Allison Dean was a freshman biology teacher at Holy Cross for four years. She will be moving with her husband and will no longer be able to teach at Holy Cross but will continue her journey somewhere else.
Dean stated, "I truly had a fabulous year as the freshman biology teacher. You all know way more now than you did when you walked into my room the first day of freshman year, and I'm proud to have seen you guys grow throughout the year."
Both students and faculty are disappointed to see Dean go, but they are also very proud of her accomplishments and wish Dean only the best.
Freshman Maddison Griffith shared, "Being in Ms. Dean's biology class was always fun, and I'm proud to say I genuinely loved biology because of her amazing teaching methods, and bubbly personality."
Freshman Maria Hall added, "Ms. Dean always made biology a class I would look forward to, now that she's leaving I'm going to be really upset, but I'm also very proud, so I hope wherever she goes next treats her well."
Dean was not only a freshman biology teacher but she was also the JV softball coach with health teacher Cheryl King, and assistant swim coach with Kit Mathews and Megan Rozanski.
King explained, "Allison is not only a co-worker but truly one of my best friends. She brings enthusiasm and excitement for learning to the classroom that is contagious. I can't say enough about the wonderful teacher and person she is. She will be missed in the classroom, hallways, softball field, and swimming pool."
Freshman Adrianna Monzono agreed, "Ms. Dean was not only an amazing biology teacher but she was a great coach as well, she always brought nothing but positivity, and encouragement to the team. I'm really gonna miss her and all the crazy labs we did."
Dean added, "It's been a gift to see how much you ladies developed and learned about science this year. Always remember to make good decisions and wear sunscreen if you're outside. I know each of you ladies will do great things, and I promise to be back for your graduation!"
About the Writer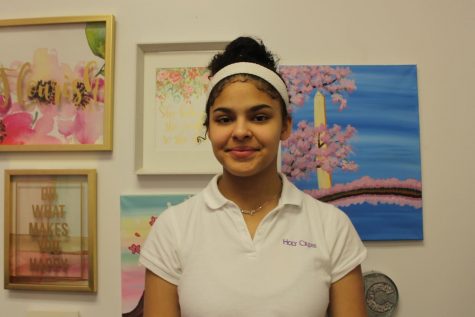 Samyrna Paul, Reporter
Samyrna Paul, class of 2022, is part of the Tartan Times staff 2019 for the first time. She played volleyball for AHC last fall and looks forward...