Spectacular JV Softball Season Comes To An End
The JV softball team concluded its season last Tuesday April 30 in a winning game against Archbishop Carroll. The JV softball team had an overall record of 7-6.
According to junior Laila Flores, the softball team had a very strong season and the energy was amazing until the end.
"This was my first year playing softball and it has been an amazing season. The energy that we had was very contagious and even if we had a loss it was still a good time. This was a very strong season and I can't wait to play again next year" stated Flores.
The JV softball team had two coaches, Cheryll King and Allison Dean. They both had very positive things to say about this season.
CoH King described, "I would say we've had a very successful season. My favorite thing about this season was the enthusiasm and spirit which made every day fun and exciting. I feel like there was a lot of improvement throughout the season and the girls are well-prepared to move to the next level of softball."
Allison Dean will not be returning to Holy Cross next year. The JV softball members are distraught and have made it clear that she will be missed greatly among the Holy Cross community.
Sophomore Lynn Clough stated, "This season has honestly been amazing. Ms. Dean and Mrs. King have been great coaches. I can't believe Ms. Dean is leaving. I'm going to miss her so much."
King is looking forward to next season, "I'm excited to hear the girls would like to continue playing for travel teams and next year for Holy Cross. I can't wait to see the JV softball team come together again next season and take on the WCAC by storm."
Clough continued, "Although she is leaving, I am still going to participate in softball and I can't wait to play next year for Holy Cross."
About the Contributor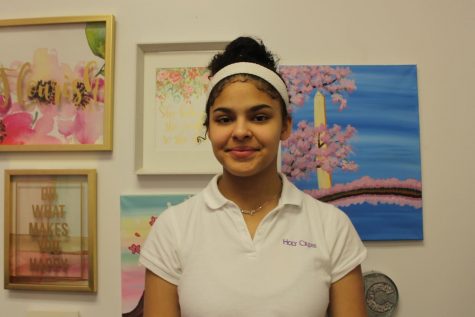 Samyrna Paul, Reporter
Samyrna Paul, class of 2022, is part of the Tartan Times staff 2019 for the first time. She played volleyball for AHC last fall and looks forward...