Holy Cross Day of Service
One of the characteristics of a Holy Cross education is service to others. On May 1, all the members of the school went out to spend the day in service.
The Holy Cross Day of Service is organized by Emily Teter, Director of Holy Cross Social Justice. On that day that every student, teacher, and staff member formed into groups that were assigned to an organization where they spent the day giving back to the community.
Teter stated, "The Day of Service was an idea from Ms. Prebble for our 150th anniversary last year. It was so successful that we decided to continue the tradition moving forward."
Sophomore Katharine Hefright stated, "I think the Day of Service is a really smart idea. Last year the Day of Service was pretty good but this year, it was amazing."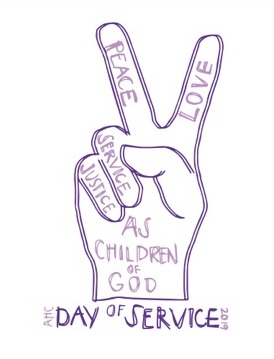 The day started with a breakfast for the school provided by the Fathers Club. As the groups headed to Metro and buses, they were cheered and encouraged by Tartan mothers. Once on-site, the different groups sorted clothes, prepared and served food, sorted donations, weeded, prepared fundraising mailings, entertained at nursing homes, beautified outdoor spaces, at 20 different locations in the area.
Teter explained, "For me, organizing a day where students get to serve others is such a great experience that most people don't get to access. A lot of people helped to make this special event possible but the whole community had a part in putting everything together."
Freshman Ryan Sesker explained, "My group got assigned to Outdoor Beautification with Sisters of the Poor where we picked up debris, planted, and fixed some brick layouts,"
Participants found that the Day of Service was also a break from the fourth-quarter where both teachers and students were consumed by homework, exams, college applications. It was an amazing experience for everyone to take a break and help others instead.
Sesker continued, "My first Day of Service at Holy Cross was a really good experience for all of us to bond, and take a break from the stresses of school, I would love to do it again."
Teter added, "One value we have here is compassion, so serving others is one of the best ways to show this quality and a great way to show our unity as a community."
About the Contributor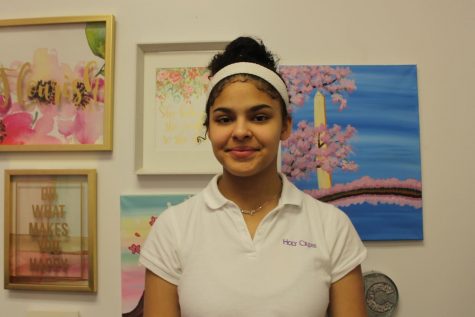 Samyrna Paul, Reporter
Samyrna Paul, class of 2022, is part of the Tartan Times staff 2019 for the first time. She played volleyball for AHC last fall and looks forward...