Dancing Into Our Hearts
One of the ways the students and faculty of AHC share their love for the arts is through the extraordinary dance concerts. On April 25 and 26, members of the dance classes and clubs showed off the hard work that they have been practicing all semester. This year's performance included dances by the students and even an additional dance by a group of the Holy Cross teachers and staff. Whether they are a freshman, senior, or teacher, the dancers' performances bring joy to the audience's hearts.
Although the dancers made the performance seem easy, they spend many hours of practice to perfect the dances. For some it was a challenge to overcome nerves, while others worked to learn the new dance moves, but everyone had their own struggles.
Sophomore Dani Lock shared, "The performance wasn't very challenging for me because I have some experience, but at the same time I was challenged because I felt like I had to push myself so that I wouldn't let my classmates down."
The dancers had been well prepared over the semester for the performance, however many of them still had butterflies in their stomachs when the curtains opened on the first night, even the teachers. English teacher Maria Effertz mentioned, "The experience was a bit nerve racking for me, especially since it was sold out and I knew tons of people would be there watching me. I haven't danced since I was about five or six, so I was really hoping I wouldn't mess up."
Whether it was a student or teacher sharing about their experience, they all said they could not have done it without the performing arts teacher Donna Reese. Every dancer ends the semester with many new memories that they will cherish forever all thanks to Reese. Reese expressed, "My favorite part is seeing how the dancers developed a love for the arts that will last forever. Especially seeing some of the student athletes transform into these lovely dancers is one of my favorite unexpected parts."
After every performance it seems impossible that Reese could top it, but each year she brings a new fire that leaves the audience amazed. Reese mentioned she could not have done it without the wonderful dancers stating, "It is a group effort. The students must be prepared mentally, physically, and emotionally."
About the Writer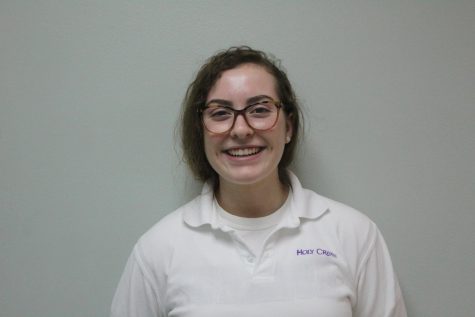 Emily Jacobs, Reporter




Emily Jacobs, class of 2021, is excited to participate in her first year of multimedia journalism this spring semester. At the Academy of the Holy...