Tartan Peer Ministers
During the spring of junior year, students are able to apply to become a Peer Minister through Campus Ministry. As a prerequisite, students are required to fill out an application and need Campus Ministry approval. Students are given either a passing or failing grade for the course, and it is offered as either a semester course, or it can be taken for the full year.
As the Director of Campus Ministry, Linda Ruszkowski is in charge, "Teaching the class and doing the student developing within it, as well as assigning the projects within the class."
Ruszkowski added, "There's a lot of detail that goes into every retreat. For instance, junior retreat has a huge logistical nightmare of getting the entire class into bunks and they do a lot of that work to try to pair people up or group people together."
Senior Molly Sullivan, a member of Peer Ministry during the 2019 school year, explained, "What we do in Campus Ministry is a lot of storage work, we sign people up for Mass and we plan a lot of retreats." She added her favorite part of being a Peer Minister, "Signing up for Thursday lunch Mass."
Peer Ministers act as leaders of the school community and are in charge of planning and leading campus ministry programs. They are trained to help run all of the Campus Ministry programs.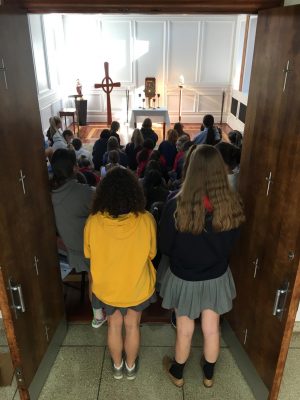 Junior Anna Owens, who will be a member of Peer Ministry next year, mentioned, "I joined Peer Ministry because I wanted to get involved in the Holy Cross community and I know that the religious activities at Holy Cross are a big deal." She also believed that becoming a Peer Minister would be a good way to contribute as an upperclassman to the community and to get to know her peers.
Freshman Emilia Moberg shared that she is interested in joining Peer Ministry her senior year. She stated, "I feel like the class could help me become closer to God."
Ruszkowski mentioned, "All sorts of people can be successful in peer ministry. There's an aspect of prayer to it, so people who have really strong faith lives would really be beneficial to the program. Or, if people are looking to grow in their faith, there's a great opportunity to see how to celebrate your faith within Peer Ministry." She also explained that the program can be beneficial to people who are interested in event planning or behind the scenes work for different events.
Owens shared what she is most looking forward to, "Helping to plan events that Campus Ministry organized, like the different retreats throughout the year, and also just meeting people through the different chapel activities." She continued, "[These] activities have always been important to me so I'm excited to meet other people who are excited to be there."
Ruszkowski advised students who may be interested in Peer Ministry, "Be open to what the class might have in store for you."