AHC Lax Takes Florida
Varsity lacrosse travelled to Del Ray, Florida, on a trip that combined fun, service, and competition over spring break this year. Parents spent months coordinating the travel plans, hotel accommodations, and activities for the team, which spent five days in Del Ray.
Varsity head coach Katie Triplin outlined the itinerary of the trip, explaining, "We had team dinners, practices, two games and a service project while we were there."
Triplin explained the outcome of the games, "We played American Heritage, a top-ranked team on the national scale. The score was 5-16 (loss). We also played Oxbridge, and the score was 16-7 (win)."
Triplin expressed her hope of playing more games in the future, continuing, "If we have the opportunity to travel in the future, I'd love to play some new teams. This is the second year that we played both American Heritage and Oxbridge."
For the service component of the trip, Triplin stated, "The team spent a day serving the community at Quantum House, a home that provides support for families whose children are receiving treatment in Palm Beach County for serious medical conditions." She continued, "Our athletes represented AHC with such generosity and compassion, and were profoundly moved by their experience with the children and families of Quantum House."
Triplin elaborated, "Our girls spent many hours playing with the children and speaking with the families. Our parents and team prepared a meal for the house as well. We were all moved by their strength in the face of adversity, and the experience provided a fantastic bonding opportunity for our team."
Junior Mckhaye O'Boyle expressed her appreciation for the trip as a first year varsity player, "Before this trip, I barely knew the varsity team. Being roomed with new people gave us a chance to get closer and form bonds. That has helped us on and off the field this season."
O'Boyle said that her favorite parts of the trip were, "Definitely the scavenger hunt and going to Burgerfi everyday."
Like Triplin, O'Boyle emphasized the benefits and importance of performing service at the Quantum House, remarking, "The volunteer work was the best. Seeing the work the Quantum House does and having direct contact with the children and their families and hearing all of their stories was incredible. We met families from Austria, Australia, Norway, and other states in America."
O'Boyle hopes that this trip will continue in the future, commenting, "The memories that I will have forever from this trip are something more girls should have here at AHC."
About the Contributor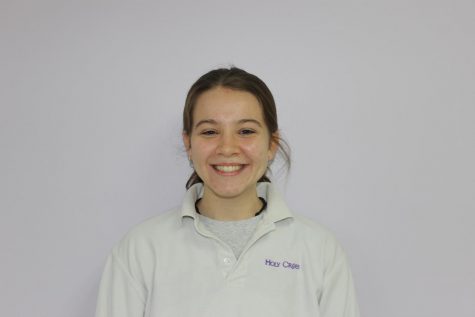 Anna Owens, Reporter
Anna Owens, class of 2020, is ecstatic to be a member of multimedia journalism. She has three younger sisters, one of which is in the class of 2022 at...