Tartan Pride at the Winter Sport Banquet
Throughout the winter sport season, students showed extreme growth and improvement. In order to commemorate the efforts and accomplishments of these students, AHC athletics held a banquet and award ceremony in the theater on Thursday, March 7.
Students were nominated by their coaches or their teammates for one of three awards: the Tartan Award, Most Valuable Player, and Most Improved Player. The Tartan Award functions as an open-ended award given to the player that the coaches deem most fit, usually the most spirited or best leader.
The Ice Hockey program, due to its size, split the awards by offense and defense so that players could be given awards based on the position they specialized in.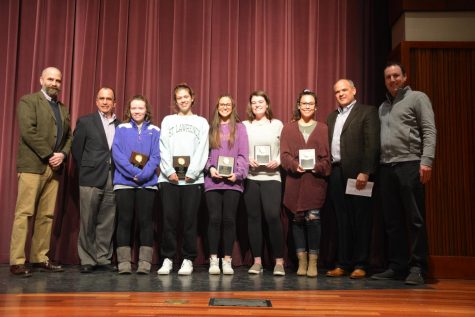 Athletic Director Dena Rapoport was in charge of organizing the award ceremony, contacting all the coaches in advance, and asking for the nominations of each award winner. Rapoport was responsible for collecting information about the games and matches from the coaches to talk about the season during the ceremony.
Freshman Bridget Junghans, awarded Most Improved Player for the indoor track and field team, mentioned that her favorite part of the night was "everyone's faces when they won because they achieved a good goal." As a first-year indoor track and field athlete, Junghans worked extremely hard during the season and was both surprised and proud of her achievement. Looking to next year, Junghans hopes to continue to have fun running alongside her teammates both on and off campus and making more friends through the sport.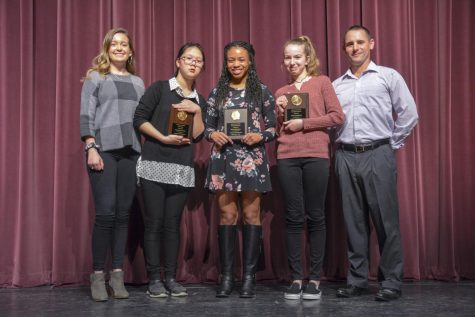 The success of the award was not only in the achievements of the competitive ice hockey, basketball, track, swim and dive, and poms teams, but in also seeing the growth of the bocce team, which is only in its second year. "My favorite part of the night was the awards we gave to the bocce team," Rapoport shared. She continued, "It really was a cool thing to see, that three of our Moreau students won awards and they were with all of our other sports teams."